City of Toronto asks 'WTF?'
The organization that represents Toronto's historic sites is targeting millennials with an OOH campaign that also features its largest social media effort.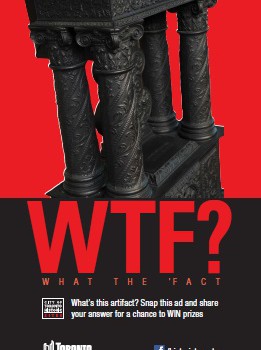 The City of Toronto Historic Sites is reaching out to millennials and asking them "WTF?" in its latest campaign, which aims to promote famous Toronto artifacts and locations like Fort York, the Spadina Museum and Mackenzie House.
With media and creative handled in-house by the City of Toronto, the "What The Fact?" campaign features OOH ads at about 100 bus shelters across the city. The ads feature close-up pictures of eight different historical artifacts, as well as a social media tie-in, which encourages people who view the ads to snap a picture, share them through social media and guess what they are.
The City of Toronto Historic Sites is also sharing the images on its Facebook page to encourage further participation, and is promoting the campaign on Twitter using the hashtag #WTFTHS. Those who guess correctly have a chance to win passes for two to any city museum.
Ilena Aldini-Messina, supervisor, program development and design, museum services, City of Toronto, tells MiC that the "What The Fact?" campaign is more playful than usual – part of the City of Toronto Historic Sites' effort to reach out to a new, younger audience and get them interested in the city's history. She adds that the campaign also presents an opportunity to share pieces of Toronto's history that are, in some cases, too fragile to be displayed in museums.
Aldini-Messina says that this is also the first time the City of Toronto Historic Sites has leveraged a major social media tie-in for a campaign, noting that the campaign is the start of a long-term strategy that will see the organization become more socially active.
The campaign runs until Sept. 9, and the identities of the artifacts will be revealed Sept. 10.