Hachette Canada gets wordy
The French publisher is using Quebec-friendly words in a new campaign for its French dictionary that spans outdoor and radio.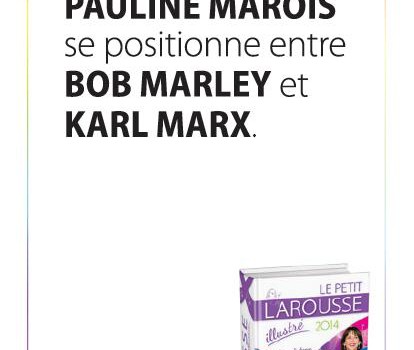 Poutine isn't the only the cultural invention to come out of Quebec and be later used by other regions. Quebeckers also invent easily-adoptable words. Every year, publisher Hachette Canada provides up to a dozen words made up or used by Quebec natives for French dictionary Petit Larousse Illustre (which is edited in France and sold globally) to include in the latest edition.
To bring this uniquely local feature to light, the publisher enlisted Agence Cartier to develop a Quebec-only outdoor and radio campaign that wittily plays with the words – such as "être botoxé," which means to receive Botox treatment – that the province has contributed this year.
Though the media budget was small (under $60,000), the publisher and its agency decided to shift more marketing dollars to radio than in previous years, as the new creative allows for a more playful promotion of the product, says Stéfanie Forcier, strategic planning director at Agence Cartier.
Typically the publisher partners with stations to have an announcement of the latest edition integrated into radio content (such as short sponsored segments) during the back-to-school season. But this year, says Forcier, it decided to target its usual audience of families (particularly parents who use the dictionary for work and students for school) with full-length radio spots that go beyond announcing the latest edition in stores.
For example, one ad talks about how Quebec Premier Pauline Marois is positioning herself between Bob Marley and Karl Marx (there was concern of a negative reaction from the premier when the ad first launched in early August, but when Infopresse posted the print ad to its Facebook page, the Parti Québécois gave its approval when it "liked"  the image on the site, Forcier says, laughing).
"This is a more humourous way to sell the dictionary. Usually [Hachette Canada] is more classic and traditional," she says of previous creative that would only show the cover of the dictionary and where to purchase it. "We all know that new dictionaries are on sale during the back-to-school season. [And] the recognition of Larousse is so high [in Quebec] that we didn't need to push the cover. We suggested to be more strategic and play with [the words] that are more specific to the dictionary and Quebec culture."
The transit and radio ads will target parents and students as they get back into their routine of commuting by car or public transit to work and to school, she says, adding that the traditional display ads  in independent bookstores will run until the end of the back-to-school period.