Spotted! Slice takes over Union Station
The new Shaw Media specialty show, Lost and Sold brought promotions to Toronto this weekend, with a stack of auction items in the transit hub.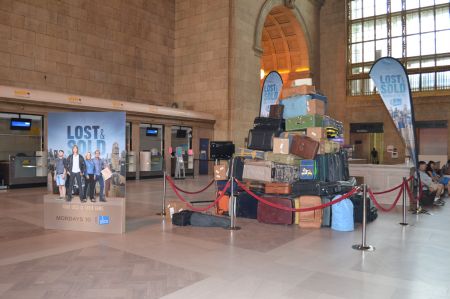 Shaw Media promoted its new Slice show, Lost and Sold with an experiential activation at Toronto's Union Station this weekend.
The new auction show, which premiered last night at 10 p.m., took its content to the transit hub by constructing a pile of unclaimed goods over 10 feet high in the lobby of the station.
In addition to the pile of goods, the show was promoted with cardboard cutouts of its cast, branded luggage tags and a contest offering passersby a chance to win a new set of high-end luggage, according to a release on the promotion. Creative and execution of the stunt was produced by the Shaw Media team with Titan.
"Playing up the lost items angle, the stunt put misplaced goods front and center at one of Toronto's biggest travel hubs where such items are often lost," Muriel Solomon, head of marketing, specialty channels and Shaw Media advertising and production, tells MiC. "In a venue with as high traffic as Union Station, on one of the busiest weekends of the summer, the stunt was sure to get noticed."
Lost and Sold airs Monday nights at 10 p.m. on Slice.