Showcase shows its character
The Shaw specialty is promoting its fall TV season and shows like King & Maxwell and Copper with its largest campaign of 2013.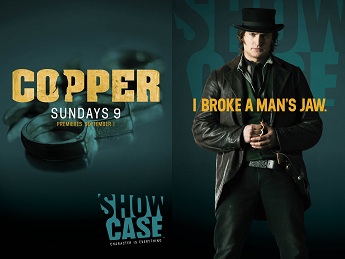 Shaw Media specialty channel Showcase is relying on the power of its characters in the campaign for its upcoming fall TV season.
With media and creative handled by Shaw's in-house marketing arm, the campaign is targeted at adults aged 25 to 54 and focuses on promoting series like King & Maxwell, Copper, Rizzoli and Isles and Covert Affairs and the stories of their main characters.
"We know that emotional connection can really drive viewership," Nadia Niccoli, acting director of brand strategy, Showcase, tells MiC. "We wanted to let our characters tell their stories in their own voices, so we utilized the talent."
Niccoli says that Showcase chose to promote these four shows because of their star power, noting that new series King & Maxwell was added into the mix in hopes that viewers will identify it as offering something similar to the other shows that are being promoted.
The campaign relies heavily on OOH executions concentrated in in the core of Toronto, including billboards, TSAs and subway dominations at Yonge and Bloor and Union stations, as well as resto-bar dominations with motion sensor audio chips that are activated when people stand in front of them.
The campaign is supported by radio spots on stations like Chum FM and 102.1 The Edge, digital ads on Facebook and Twitter targeted at viewers who like the series or similar series, mobile ads through Juice Mobile's network and TV spots across Shaw properties.
Showcase has also launched a microsite that allows visitors to create and share their own short videos telling their own stories.
Niccoli says that the fall TV campaign is Showcase's largest advertising effort for 2013. She adds that the use of resto-bar dominations, motion-sensor audio chips and the digital-social experience of the microsite are all firsts for Showcase.
The campaign runs for four weeks.