Nissan's Layar-d campaign
Neal Bouwmeester from the car co's digital marketing and social media team tells MiC why it partnered with the Toronto Star for today's special edition of the paper.
Nissan Canada is taking its traditional newspaper print buy to the next level today, partnering with the Toronto Star for a special "Go Beyond" issue of the paper, which includes more than 30 pages of Layar-enabled augmented reality content.
Neal Bouwmeester, senior manager, digital marketing and social media, Nissan Canada, tells MiC the project, which was done with media from OMD and creative from TBWA, allows the car co to bridge its summer and fall campaigns with an execution that builds on the brand's Layar-enabled ads with Postmedia papers in June of 2012.
"Last year's work was a project to see how Canadians would react to that type of technology, with the connection of print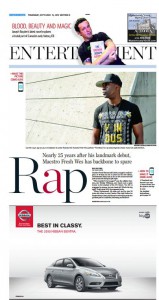 and digital," he says. "We saw Layar as an emerging technology and from a brand standpoint that is something we try to tie ourselves to."
Bouwmeester says the car co has three ads in each section of today's Toronto Star, for a total of 29, each using creative that the company is currently using in its dealerships, so the added costs for the project were negligible.
"From a success measurement standpoint, this kind of execution is icing on the cake for us. It is very difficult to judge how effective a message is in print advertising. Adding Layar into the ad lets us track it better, to see how people are interacting with the ads and when."