Mark's expands its target in new campaign
The company is aiming to connect on an emotional level with a younger demographic through its latest campaign under the new tagline "Ready for This."
Canadian Tire Corporation-owned retailer Mark's is aiming to connect with a younger demographic on an emotional level with the launch of a new campaign and tagline, "Ready for This."
With media by Touche! and creative from Sid Lee, the company is looking to speak directly with adults aged 30 to 49, a younger demographic than Mark's is typically skewed towards, and one that it hasn't talked to directly before, Kal Irani,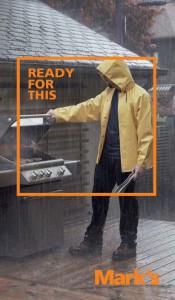 associate VP of marketing at Mark's, tells MiC.
Featuring creative showing "slice of life" moments, the campaign says the company will be with consumers during those events every step of the way. It will launch on Sunday night during the Emmys with a teaser spot and continue on Monday with print ads, a longer TV spot airing on conventional and specialty channels and OOH ads in Vancouver and the GTA, key areas for the chain given their large populations, says Irani.
"The campaign will remind our core consumers that we are still strong and proud of what we do and also tell the new segment that we are focusing on them," he says. "We haven't connected with consumers on an emotional level before. Our loyal consumers are passionate about Mark's and we want everyone to feel that way."
Irani says this campaign will continue throughout the fall, with product-specific spots and a larger buy happening again around the holidays. It is the latest in a line of rebranding spots for the company since it dropped the "Work Wearhouse" from its name last year and launched a campaign targeting female consumers.