Amazing Race Canada dominates ratings: BBM
The reality show's second last episode nabbed 2.87 million views, while CTV Evening News remained the top weekly show for Sept. 9 to 15.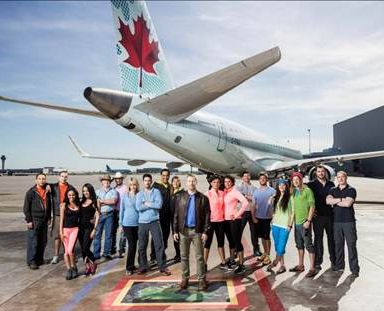 Here are the top-ranked daily measured shows in Canada (for all persons 2+; all times ET), according to BBM, for Sept. 9 to 15, 2013:
Monday: Amazing Race Canada on CTV at 9 p.m.: 2.87 million viewers.
Tuesday: America's Got Talent on City at 9 p.m.: 1 million viewers.
Wednesday: MasterChef on CTV at 8 p.m.: 2.02 million viewers.
Thursday: The Big Bang Theory on CTV at 8 p.m.: 1.6 million viewers.
Friday: Blue Bloods on CTV at 10 p.m.: 932,000 viewers.
Saturday: No daily recorded show.
Sunday: Big Brother 15 on Global at 8 p.m: 1.17 million viewers.
Here are the top-ranked weekly averaged measured shows in Canada (for all persons 2+; all times ET), according to BBM, for Sept. 9 to 15, 2013:
1. CTV Evening News, weeknights at 6 p.m.: 1.49 million viewers.
2. The Big Bang Theory, weeknights on CTV at 7:30 p.m.: 1.17 million viewers.
3. CTV National News, nightly at 11 p.m.: 1.09 million viewers.
4. CTV Evening News Weekend at 6 p.m.: 1.08 million viewers.
5. CTV Late News, nightly at 11:30 p.m.: 851,000 viewers.
6. News Hour, weeknights on Global at 5:30 p.m.: 831,000 viewers.
7. CFL Football, Friday, Saturday and Sunday on TSN at 9 p.m.: 822,000 viewers.
8. Young & The Restless, weekdays on Global at 4:30 p.m.: 755,000 viewers.
9. Coronation Street, weeknights on CBC at 7:30 p.m.: 733,000 viewers