CTV gets a Tuesday boost from Marvel: Fall TV
Marvel's Agents of S.H.I.E.L.D. debuts to 2.7 million viewers, with Global's NCIS: LA hot on its heels; J3's Bailey Wilson earns the "battleground" win for her upfront prediction.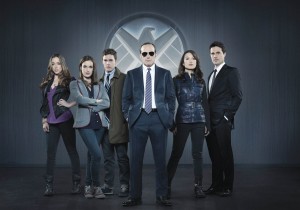 Tuesday night's most-watched show in Canada was CTV's new superhero drama, Marvel's Agents of S.H.I.E.L.D. The show, which airs at 8 p.m. on the Bell Media channel brought in 2.7 million (2+) AMA total viewers.
The Marvel win was also a win for media agency exec Bailey Wilson of J3, who predicted last June that the star-powered series would take the night in strategy magazine's annual "Fall TV battlegrounds" story.
"With the powerhouse of Joss Whedon and The Avengers behind it, it should come as no surprise that Marvel's Agents of S.H.I.E.L.D. has lots of buzz," said Wilson. "Those who don't watch CBS's number one show NCIS, which is the time period's only real competition, will definitely tune into S.H.I.E.L.D."
As Wilson mentioned, S.H.I.E.L.D.'s closest competitor in the timeslot was NCIS on Global, which brought in 2.5 million viewers (2+) for its returning episode. A new episode of Dads brought in an average audience of 407,000 on City at 8 p.m., with Brooklyn Nine-Nine bringing in 564,000 at 8:30 p.m.
Global took the 9 p.m. timeslot, with NCIS: LA bringing in a total of 2.2 million viewers for the night. CTV's new 9 p.m. hour of comedy started with '80s throwback The Goldbergs bringing in 1.3 million viewers and followed with Trophy Wife getting 1.2 million viewers for its 9:30 p.m. debut. On City a new episode of New Girl brought in an average audience of 445,000 at 9 p.m., with the latest from The Mindy Project getting 316,000 viewers at 9:30 p.m.
Moved this fall from City to CTV, the new season of Person of Interest brought in 1.6 million viewers for its season premiere at 10 p.m. Chicago Fire launched its new season on Global Television with 1.1 million viewers for the night. New lottery-based drama Lucky 7 premiered to an average audience of 358,000 on City during the 10 p.m. hour.