Dempster's targets DIY guys
The Canada Bread brand's campaign steers away from moms to take aim at millennial males.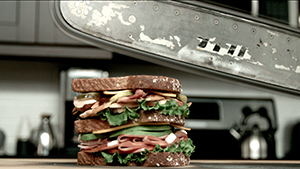 Dempster's is making a macho effort to break through to millennial males with power tool-driven creative encouraging them to make their own sandwiches.
The Canada Bread brand traditionally targets moms, but research laid bare the need for a renovated approach, says marketing director Mike Ponter. The company found that people are eating more sandwiches now than two years ago, but fewer folks are making their own BLTs and Reubens, with only 57% of sandwiches consumed in 2012 being made at home compared to 64% in 2010.
And it's millennial males leading the charge, buying the bulk of their sandwiches at QSRs.
A digital spot, with creative from Cundari and media done internally, hopes to grab their DIY attention by spoofing popular renovation shows like Holmes Makes it Right. It features a sandwich-reno man, Butch, and his assistant Jessica, helping a guy build a sandwich with tools better suited to the garage, slicing lettuce in a wood chipper or toasting bread with a blowtorch.
The spot lives on the Dempster's YouTube page and is running as pre-roll spots. Display banner ads target male-specific sites like Sportsnetwork.com while the video and site push to an Instagram contest challenging consumers to post photos of their creations with the hashtag #DIYsandwich for the chance to win cash prizes.
Dempster's is also partnering with brands such as Cracker Barrel cheese and Maple Leaf Deli-Fresh meats for an in-store discount program that will let customers who buy two participating products pick up a free bag of Dempster's bread in retailers such as Metro and Sobeys.
Racks with posters encouraging customers to "Grab it. Build it. Eat it." will be placed near partner products where possible, Ponter says.
While guys are the primary target, Ponter says DIY culture is fairly universal and the brand is confident females will chuckle at the video. In-store creative uses language and imagery that is intended not to alienate female consumers, he adds.
Which means (sadly), live in-store reno demonstrations with chainsaws and torches aren't likely coming to grocery aisles anytime soon.