H&M gets artsy with Scotiabank Nuit Blanche
The fashion retailer is working with local artists to host its own interactive multimedia installation at its flagship store at Yonge and Dundas Streets in Toronto.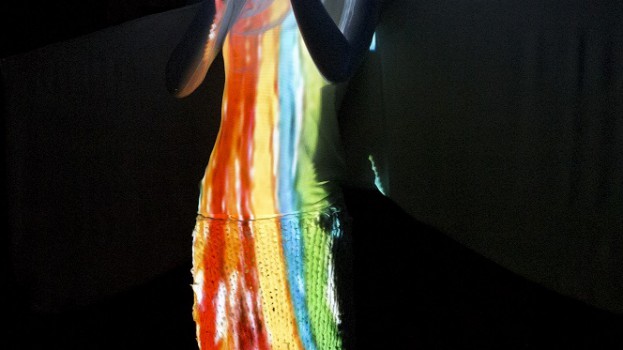 Clothing retailer H&M is gearing up to show off the artistic side of fashion through a brand new sponsorship of Scotiabank Nuit Blanche.
The sponsorship, which marks the first time H&M has partnered with Nuit Blanche, will see the retailer roll out its own interactive multimedia art installation in the window of its flagship store at Yonge and Dundas Streets as part of the Toronto-based event.
To help with the installation, which is called the [RE] Generator Project and is based on themes of recycling, remixing, reinventing, repurposing and reusing, H&M has partnered with local artists Gabrielle Lasporte and Chinedu Ukabam. The artists will turn clothing that has been donated to H&M's recently launched I:Collect garment collecting program, which encourages consumers to donate bags of used clothing in exchange for a discount off future purchases into works of art. Images of the art will then be projected onto a series of white dresses using projection mapping, creating both static and moving patterns.
The project will also involve an online conversation that will encourage participants to share their own "re" ideas by uploading artistic images or patterns to Instagram using the hashtag #regenerator2013. The user-generated ideas will also be projected onto dresses using projection mapping, with the number of likes and comments an image receives determining how long it appears.
To support its Nuit Blanche sponsorship, H&M has signage in its downtown core stores and is handing out Nuit Blanche programs to consumers. Its branding is also visible on the city of Toronto's TSAs to promote the event.
Emily Scarlett, communications and press manager, H&M Canada, tells MiC that H&M's sponsorship of Nuit Blanche marks the first time the brand has attempted to explore the world of art through a partnership, adding that it's already heavily involved in music and film through sponsorships of events like the Osheaga Music and Arts Festival and the MuchMusic Video Awards.
She says Nuit Blanche was on the top of the wishlist for H&M during its talks with the city of Toronto about projects the brand could get involved with. She adds that Nuit Blanche is a good fit for H&M because it allows the brand to reach out well beyond its core audience of women aged 18 to 39, and position itself at the centre of an event that draws thousands of people to Toronto and helps bring the city to life.
Scarlett says the sponsorship is a standalone activation and not part of H&M's broader traditional media plans.
Nuit Blanche takes place Oct. 5.