Infiniti creates a between-screen conversation
The car co launched a one-day multi-screen execution with Microsoft that allowed consumers to connect their mobile phones to desktop ad units.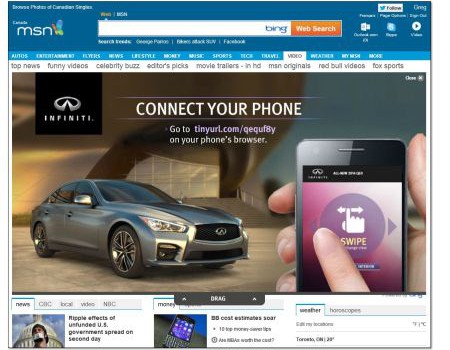 OMD launched a one-day campaign for the All-New Infiniti Q50 with Microsoft this week that gave consumers the ability to control the brand's ads on MSN.ca with their mobile device.
Targeting tech-savvy males in their later 30s to early 40s, the ad for the car was live on MSN.ca on Wednesday. Users who visited the site were given a URL to enter in the browsers of their mobile devices to allow them to use their phones to control the desktop screens. Once they entered the URL they could do things like interact with a 360-degree animation of the car or use their mobile device to take photos of the car.
With creative from TBWA, the idea for the campaign, which was part of a Microsoft takeover on its desktop, Skype, mobile, Xbox and Microsoft 8 Ads in Apps, was presented to the brand by Samantha Redshaw, senior digital specialist at OMD, who says she had seen the ability to control desktop screens with mobile devices, but had not yet seen it done for a brand.
"I think the whole idea for making the screens interactive fit so well with the target and objective for the campaign for the All-New Infiniti Q50," she says. "The target for the car is very tech-savvy, so we wanted something that spoke to that side of their personality. We know that their phones are sitting there beside the computer while they are checking their emails so we thought we would make something custom and unique to tap into that."
This week's interactive spot with Microsoft is part of a campaign for the car that is running until Nov. 3.