Brands get tricky: MiC's Global Tour
PHD's Rob Young and MediaCom's Robin Hassan on prank activations by LG Chile, Star Trek: Into Darkness and Vitamin Water.
When it comes to getting consumers talking, pranking them seems to be en vogue for many brands. In this edition of the MiC Global Tour, we take a look at brands that have seized on this trend in recent activations.
Our tour starts in Chile, where LG is promoting its ultra HD TV with a prank that leverages the apocalypse. From there, we go to the UK where the DVD release of Star Trek: Into Darkness was promoted through a stunt that plays on the film's teleportation tech. We end our tour in the US where Vitamin Water recently teamed with College Humor on a series of prank videos.
Here's what Rob Young, SVP director of insights and analytics, PHD and Robin Hassan, SVP, digital strategy, Mediacom,  had to say about these prank activations.
Chile: LG pulls out an ultra HD apocalypse
Imagine this. You're going for what you think is a normal job interview and as you're talking to your potential employer, a meteor falls, seemingly devastating the city around you. That was the premise for LG's latest prank campaign (its first was in the UK in 2012), which it launched to promote its new Ultra HD 84-inch TV, and all the hilarious reactions and reveals were all captured for a short online video.
Young: This is good. Why? The key brand attribute, a life-like screen quality, is the prankster. And although you felt badly for the four applicants, you can't help but laugh. After all, we humans are despicable creatures.
Hassan: Not only is the video relevant due to including the product as a star so appropriately. They may even have created their very own prank genre if you will as this is the second prank they have pulled.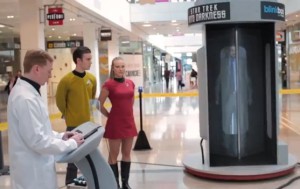 UK: Star Trek: Into Darkness teleports into stores
A little high-tech magic was paired with twin power to help promote the digital release of Star Trek: Into Darkness. A Star Trek-inspired teleporter was placed in a London mall and people were "randomly" selected from the crowd to be teleported. With the help of a little lighting and some trickery, the person in the teleporter seemingly disappeared and reappeared elsewhere in the mall.
Young: Take a Star Trek prop, some costumes, an illusionist, a mall, and some twins and teleport away. The crowd enjoyed this harmless prank but the key brand attribute, the new release of Star Trek: Into The Darkness, got lost in mid-teleport. Bad.
Hassan: Star Trek (in general) is an interesting one as its received significant earned chatter around how the original's tech are coming to life today (smartphones, tablets, wearable tech). So it's a unique time to bring this activation to promote this sci-fi movie to a new audience. Not sure how this activation was supported, but it would be intriguing to have released a short video teasing the 'technology' for a few days first with some paid media to drive earned media. And then revealing the 'how we did it' part in a follow-up would have been a good approach to bring that to life.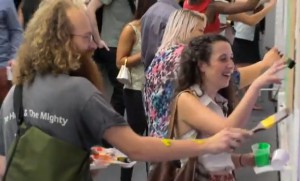 US: Vitamin Water partners with College Humor for something brilliant
Vitamin Water recently paired with College Humor to launch a series of videos in which hired actors were used to trick people with shocking behaviour. In one video, a man at an art gallery starts painting all over the artwork to the dismay of fellow patrons, who are then surprised when the artist loves the man's work. The videos were all part of Vitamin Water's broader "Make Boring Brilliant" campaign.
Young: A spectator destroys works of art in front of a horrified crowd on onlookers. Is it possible that not one patron attempted to stop this maniac? Of course not! A set-up? Probably!  Brand attribute being featured? Search me. This brand activation is ugly.
Hassan: This Vitamin Water execution was broad and really went far to entertain the viewer. The product relevance was harder to grasp. If this is just one of a series of activations it could become more of a motivational message for the brand. The challenge I have with it is that this could have been any brand sponsoring the creation of an entertaining video.