The Hockey News expands digital presence
The new blog-style breaking news section is part of the TC Media publication's aggressive digital strategy and offers advertisers a presenting sponsorship opportunity.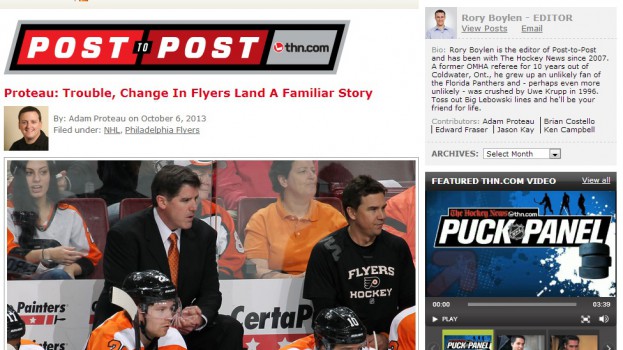 The Hockey News has announced a refresh of its online portal that will see it focus more heavily on blog-style breaking news in its new Post-to-Post section.
"We're putting added emphasis on our website and digital strategy to ensure that we give our visitors as much content as they want to devour," Jason Kay, editor-in-chief, The Hockey News, tells MiC. "We're not ignoring print. It's still important and we're publishing the same number of issues and pages, but we do know that our consumers are consuming more content in digital formats."
From an editorial perspective, Kay says the shift to running more blog-style content will make The Hockey News' web portal more flexible, allowing it to respond to breaking news in real time while still giving coverage to bigger feature stories. He adds that the greater volume and diversity of content will help place The Hockey News top of mind for readers, conceding that the brand has been lagging behind big players like TSN in terms of recognition.
For advertisers, the new blog section offers a presenting sponsorship opportunity in the form of an exclusive banner takeover on all blog posts with sponsor logo placement next to the Post-to-Post masthead. The rest of the site, meanwhile, will continue to offer traditional display and pre-roll formats, as well as site and blog takeovers and sponsored content integration opportunities.
Kay says the The Hockey News, which currently sees about 400,000 monthly Canadian unique visitors according to comScore numbers from September, has a primary audience of adults aged 18 to 35 with a male skew.
Going into 2014, he adds that The Hockey News has an aggressive growth strategy in place that aims to attract younger hockey fans and includes the launch of a gifs section.