Ford partners with Beyond the Rack
The carmaker is targeting young women with its first-ever sponsored sales event campaign.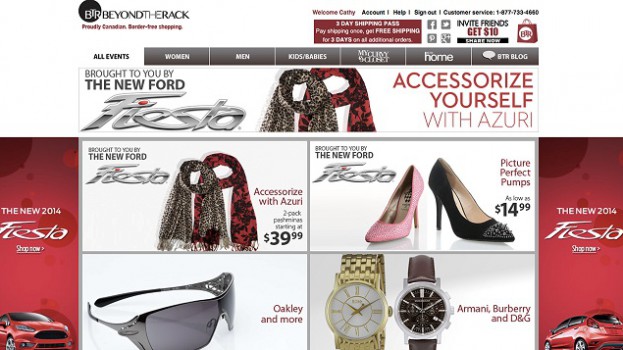 Ford Canada has teamed up with Jones Media and online fashion retailer Beyond the Rack in a new campaign to promote its 2014 Ford Fiesta.
With media by Mindshare and creative by Y&R, the partnership will consist of four exclusive Ford Fiesta-sponsored sales events targeted at women aged 25 to 35 with a household income above $65,000. The weekly sales events will last 48 hours and offer collections of clothes and accessories around themes like ladies night out, day at the office and different colour schemes, featuring Ford Fiesta-inspired hues and accessories.
Additionally, Ford will dominate the site on customized event pages, showcase pages, product pages, email newsletters and purchase confirmation notices with leaderboards, wallpapers and logos.
This partnership continues Ford Fiesta's targeting of this demographic of females, which it started earlier this year when it partnered with MTV for the #IN24 series that followed six Canadian artists travelling across the country in the car. Ford Fiesta also targeted the demo by partnering with Toronto-based ShopCrawl, a shopping event that took over Bloor St. at Yonge on Sept. 26 for an evening with special discounts and gifts for attendees.
Sharon Brown, associate director, Mindshare, tells MiC the launch of the 2014 Ford Fiesta is the first time Ford has targeted a younger female audience, adding that the carmaker is going after the demographic because it has increased its buying power when it comes to purchasing vehicles.
She says the campaign is a key pillar of the digital spend for the Ford Fiesta brand this year, noting that while Ford has done a lot of custom editorials and sponsorships in the past, the partnership with Beyond the Rack presented the brand with an opportunity to target consumers around online shopping, a key behaviour for the demographic.
The sales events will run until the end of October.