We Are Men gets axed: Fall TV
Elsewhere, Marvel's Agents of S.H.I.E.L.D. and The Blacklist have been picked up for full seasons, while Fox's Sleepy Hollow nabbed a second season run.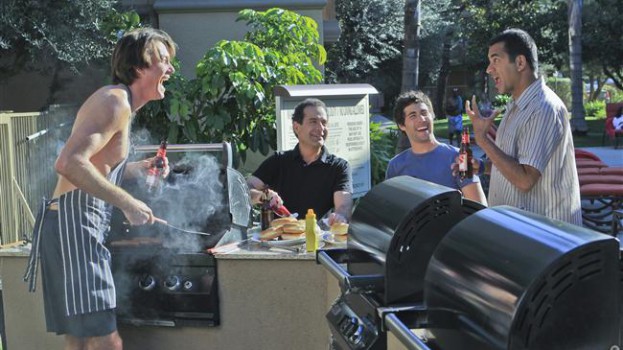 With the fall TV season in full swing, a second show has fallen as CBS has pulled the plug on the freshman Jerry O'Connell and Tony Shalhoub-starring comedy We Are Men after two episodes.
The show aired in Canada Sunday nights at 7:30 p.m. on Global. A Shaw Media spokesperson was unable to say what will take its place in the Sunday lineup.
We Are Men's early demise was predicted in strategy's annual Fall TV: Battlegrounds feature by Atreyee Dey, group director, PHD, following the upfronts last June.
"This just won't make it past a few episodes as the clips shown at the upfront drew very few laughs," she said.
Meanwhile, ABC has picked up Marvel's Agents of S.H.I.E.L.D. for an additional nine episodes, giving the drama a full-season run.
The premiere episode of the show, which airs Tuesdays at 8 p.m. on CTV in Canada, drew 2.7 million viewers and was the top show of the night, while the most recent episode drew 2 million viewers, according to BBM Canada numbers provided by Bell Media.
NBC's The Blacklist, which airs Mondays at 10 p.m. on Global in Canada, also snagged a full-season pick-up. The James Spader drama bowed to 1.9 million viewers and was the top show of the night in its first week as well, according to BBM.
Given this, it seems both Dey and Bailey Wilson, director of investment, J3, were correct in their predictions that the drama will be sticking around.
"If NBC's 10 p.m. time slot was enough to keep Revolution around last year, The Blacklist will be an even bigger success," said Wilson.
In other Fall TV news, earlier this week, ABC's drama Lucky 7, about a group of co-workers who win the lottery and the situations they face afterward, was the season's first casualty, also axed after just two episodes. The show aired Tuesday nights at 10 p.m. on City.
Dey also correctly predicted Lucky 7′s demise.
"The storyline of that show is weak and I am not sure how many episodes it can sustain to profile the lives of lottery winners," she said
Elsewhere, Fox recently renewed Sleepy Hollow for a second 13-episode season. The Washington Irving-inspired procedural airs Monday nights at 9 p.m. on Global, and bowed to 1.6 million viewers in its debut, according to BBM data.