Spotted! Breathe Right encourages naps
The GlaxoSmithKline brand has launched a street-level pod hotel in Ottawa this week, offering 20-minute naps to tired passersby.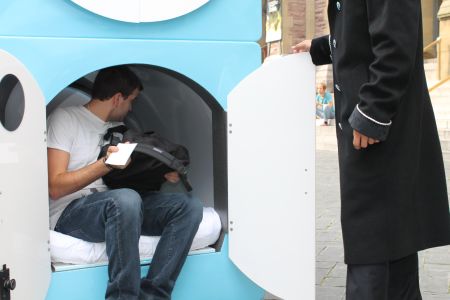 GlaxoSmithKline's Breathe Right Nasal Strips is encouraging people in Ottawa to take a quick nap this week with the launch of the Breathe Right pod hotel.
Live until Oct. 19 on Ottawa's pedestrian strip Spark St., located in the heart of the city's office core, the hotel will be open from 10 a.m. to 6 p.m. daily and offers a private, quiet environment away from nearby hustle and bustle for a 20-minute nap. Reservations for the pods are accepted on the brand's Facebook page, with walk-up naps also available if there is space.
John Filipetto, senior brand manager, respiratory, GlaxoSmithKline Consumer Health, tells MiC the idea for the pod hotel, which will travel to Toronto later this month, came from the insight that when people can't breathe at night they struggle to sleep and feel sluggish the next day.
The pod hotel is part of an overarching platform of "The Power of Sleep" developed by Blammo Worldwide that has been brought to life with the pod hotel tour, he says. Starcom MediaVest Group did the media on the spots, with additional work on the activation done by Secret Location and Vision Experiential Marketing.
Filipetto says the brand has typically relied on traditional vehicles to communicate its "Breathe Better, Sleep Better" message in the past to its target demographic of adults aged 25 to 54, but wanted to bring it to life in a new way with this execution.
The pod hotel will be in Toronto from Oct. 21 to 26 from 10 a.m. to 6 p.m. at Royal Bank Plaza at 200 Bay Street. It was also live in Montreal last week.