Dempster's introduces Healthy Way
The new product line includes four types of bread and is being promoted with the brand's first ever fully-integrated dual campaign for English Canada and Quebec.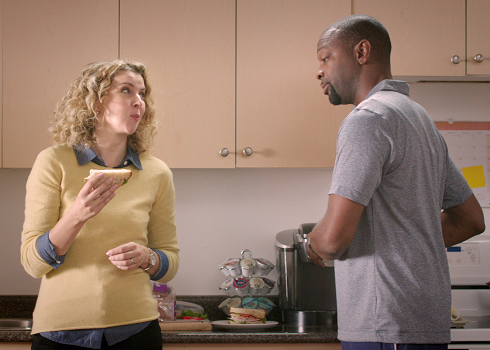 Dempster's is looking to help Canadians above the age of 35 feel good about eating bread with the launch of its Healthy Way product line and a new national campaign.
The new products hit stores yesterday and include Double My Fibre!, Say No To Fat and Sugar!, Boost my Protein!, and Make My Heart Beat!
Connie Morrison, SVP of marketing and product development, Canada Bread, tells MiC that Dempster's introduced the new products based on insight that suggested consumers were looking for healthier bread alternatives.
"There has been an increase in health conditions like heart disease, diabetes and obesity in Canada. Consumers want to know how to manage their diet and still eat bread, because they don't necessarily want to give it up," she says.
Morrison says the spend behind this launch campaign is consistent with other recent product launches, adding that it differs in that the brand is rolling out fully integrated campaigns for both English Canada and the Quebec market for the first time, as opposed to simply translating pieces of creative to French.
"This is an important product launch. We feel Healthy Way fills a gap in the bread market because each product in the line has its own specific benefit, allowing Canadians to customize based on their own health needs," she says.
With media handled internally by Maple Leaf Foods, which owns Dempster's, TV creative by JWT, digital creative by Cundari and in-store by Toronto-based Commix, the campaign relies primarily on 15- and 30-second TV spots that will air on conventional and specialty channels like CTV, City, and Food Network starting Oct. 21 in English Canada and Oct. 28 in Quebec.
The English spots will leverage James Brown's hit song "I Feel Good" to promote the Healthy Way message, while the Quebec spots will position the product line (called Vivre en Sante in French) as a bread reinvented by the Bon Matin baking experts.
Starting in November, Dempster's will surprise Canadians at work with a feel good experience involving the new products, says Morrison. Meanwhile in Quebec, bus stops will be transformed into cafes hosted by comedian Nicolas Penson, and visitors will receive lunches delivered by a Delorean. The surprises will be turned into a digital series and be promoted by YouTube spots and Facebook ads that will drive to a microsite.
Rounding out the campaign are in-store displays and at-shelf communications, including coupons.
The campaign will be in market until the end of 2013, after which Dempster's will evaluate its plans for 2014.