The future of programmatic is cross-platform: panel
Speaking at Digital Day 2013, The Exchange Lab's Thierry Bazay, Kijiji's Karla Stuewe and Microsoft Advertising Exchange's Chris Kemp offered a 2014 forecast for programmatic buying.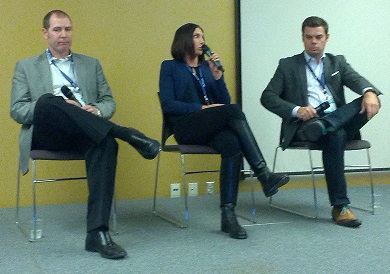 While advertisers still face bumps in the road when it comes to understanding and integrating programmatic buying into their ad spends, the programmatic outlook for Canada is quite rosy. At least, that was the consensus reached by a panel at the CMA's Digital Day 2013 Conference.
"From the buy side we still need to fully understand what the programmatic model brings to the table,"  said Thierry Bazay, general manager, Canada, The Exchange Lab." But advertisers have already started testing RTB out and now need to take that learning and apply it to a larger portion of their budgets."
Bazay was joined by Chris Kemp, RTB partner manager, Canada and Latin America, Microsoft Advertising Exchange and Karla Stuewe, manager, advertising sales and RTB/private exchange, Kijiji, as well as Heather Forrester, country manager, Canada, AppNexus, who moderated the panel.
All panelists agreed that one of the biggest obstacles holding up RTB's growth is the need for greater transparency from both publishers and broadcasters.
"We need more visibility into the inventory we're buying from publishers. They can't completely mask their URLs," said Bazay. "We also need an understanding from broadcasters about what this will mean for the buying space, because programmatic isn't just going to be about digital video or mobile impressions."
Bazay added that publishers in particular will be pushed into being more transparent heading into 2014, as advertisers' digital budgets continue to grow and they gain a better understanding of how far their ad dollars are going.
Meanwhile, Kemp said Microsoft Advertising Exchange is changing its approach to programmatic by opening up its traditional reserved inventory to purchase through programmatic buying, adding that the move will allow for greater efficiency. He projected the industry as a whole will also make a move in this direction.
"Programmatic goes beyond auction-based RTB," he said. "Over next six to 12 months, publishers will allow access to inventory in a number of ways, including programmatic buying through an exchange, but also programmatic buying on a reserved basis in a similar way to how advertisers buy today."
Photo L to R: Chris Kemp, Karla Stuewe, Thierry Bazay