RBC encourages bill sharing
The bank is running its first NFC-enabled billfold ads to reach consumers in situations where they might need money transfers.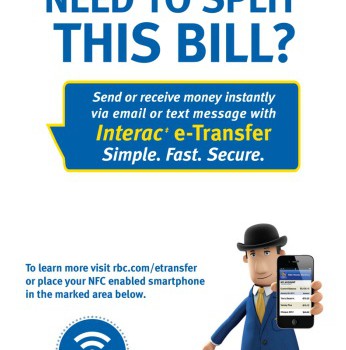 RBC is promoting its etransfer product with its first ever in-restaurant campaign targeted at adults aged 18 to 40.
With media by M2 Universal and creative by MacLaren McCann, the new campaign leverages Montreal-based Eat it Up Media's in-restaurant network, and includes NFC-enabled billfold ad cards and takeaway promotional cards in restaurants across the Greater Toronto Area (GTA). The campaign is an extension of an ongoing billfold ad campaign by RBC, which features non-NFC-enabled ads.
The ads lead to RBC's etransfer site, which explains how to use the product and promotes the fact that RBC now offers its etransfer service through its mobile app.
Willing Gaw, senior marketing manager, electronic payments and digital channels, RBC, tells MiC that the campaign was built on the insight that not many of its customers are aware of its etransfer product or the situations in which it can be useful.
Given this, she says, the brand is reaching out to consumers in the moment they're paying for their meals and may need to split the bill. The strategy represented an ideal way to reach consumers at the moment of purchase and demonstrate contexts in which etransfers might be useful, as opposed to using traditional print and OOH ads.
RBC's in-restaurant efforts are supported by a small digital buy, which includes Facebook ads and search advertising.
Gaw says that the initial budget for this campaign will be small, as RBC tests out the effectiveness of the NFC-enabled billfold ads. She adds that depending on their performance, RBC may invest more ad dollars and roll out future campaigns to more locations.
The campaign will be in market until Nov. 24.