Shoppers partners with Beyond the Rack
The company is partnering with the e-retailer to offer its Optimum members exclusive offers and test for future digital expansions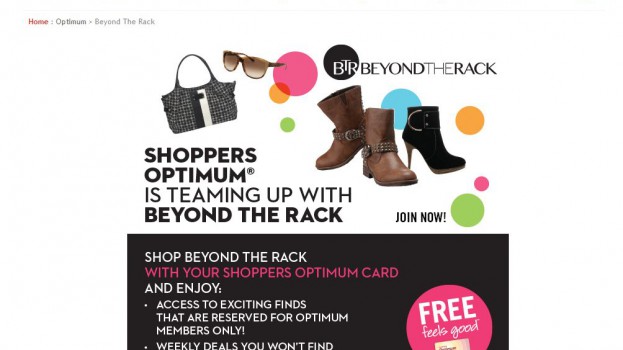 Shoppers Drug Mart is partnering with e-retailer Beyond the Rack to launch a new co-branded website that will feature exclusive offers for its Shoppers Optimum members.
The new site, Shoppersdrugmart.ca/btr, allows Shoppers Optimum members to register for weekly offers on Beyond the Rack sales that will be posted exclusively to those registered on the site, with people who opt-in also receiving 10 Optimum points for every dollar spent on the new site. The member-only deals will be posted for seven days, longer than the usual 48-hours Beyond the Rack sales are available for on the main site.

Jim Noteboom, SVP of business analytics and financial services at Shoppers Drug Mart, tells MiC the partnership allows the company to dip into the online world in a larger way than it has with its online cosmetics site Murale.ca. He adds the partnership with Shoppers makes sense because the audiences of the two companies both align to reach a primarily female target.
"Shoppers is well known for the store network and we recognize people appreciate the convenience of shopping online and we are looking for opportunities to get into mobile, digital and e-commerce," he says. "This partnership fits with our long term strategy of launching a larger e-commerce presence."
Noteboom could not elaborate on the timeline for Shoppers expanding its presence online, but said it will be sooner rather than later.
The partnership between Shoppers Drug Mart and Beyond the Rack will be promoted to members of each company's programs through owned media channels, including email and print flyers.