Spotted! Angry Birds pays it forward
The mobile game company promoted its new line of prepaid Visa cards with a stunt in Toronto's Union Station encouraging un-angry acts of kindness.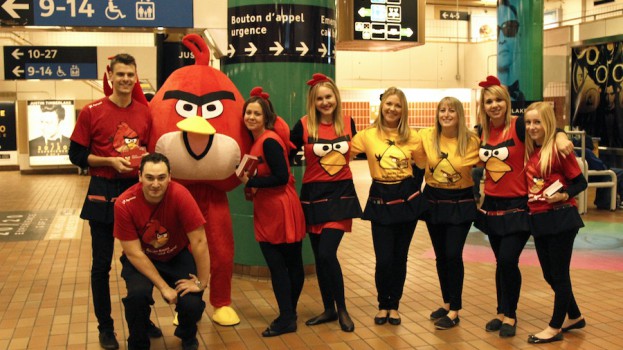 Rovio, the creator of Angry Birds, has teamed with  Visa and Paymobile, a developer of prepaid credit card programs, to introduce its own line of branded credit cards in Canada and globally.
To help promote the upcoming Nov. 4 launch of the cards, Rovio took over Toronto's Union Station this morning, with help from Toronto-based marketing firm XTM. Targeting commuters of all ages Rovio had an Angry Birds team and mascot onsite handing out cards and buying coffees and breakfasts for passersby.
The stunt also included a contest, which encouraged consumers to pay it forward by doing something nice for others, taking a picture of the act and uploading it to Twitter or Instagram using the hashtag #abpayitforwad for a chance to win one of 40 $100 prepaid Angry Birds credit cards, or the grand prize of a $1,000 prepaid card.
Marilyn Schaffer, CEO, XTM, tells MiC the activation is part of Rovio's long-term strategy to align its brand with specific values as it continues to grow as a family-oriented entertainment company. She says that Rovio saw launching a prepaid line of credit cards around the value of responsible spending as a good fit because gaming is a luxury spend for families that must be done in moderation.
As a follow-up to the stunt, Rovio will be running a promotion in partnership with Toronto-based radio station Q107 in November that will see Angry Birds prepaid credit cards given away as prizes on the trivia show Stump the Chump, as well as through an online contest. The cards will also be leveraged for Q107′s charity-driven holiday campaign, and be given to families in need.
Rovio and Angry Birds will also have a presence at Winnipeg ComicCon Nov. 1, where it will promote the cards as well.