Future of print: The Grid eyes larger events presence
Publisher and editor Laas Turnbull talks about the weekly's plans to add three new events to its slate in 2014, including a spring edition of its Cocktail Week.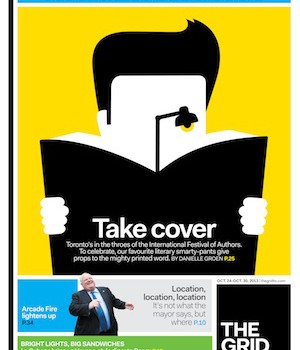 Print publications are innovating at a rapid pace to increase revenue from both traditional and new areas. To dig deeper into the changes in the industry, MiC has launched a Future of Print series, which will look at different titles and the changes they are making to stay afloat in today's economy.
Two years into a rebrand, Laas Turnbull, publisher and editor, The Grid, tells MiC the Torstar-owned weekly is looking to complement its print and digital presence by adding to its stable of local lifestyle-themed events like Burger Week and Toronto Cocktail Week.
During this year's four-day Burger Week, Turnbull says that 66 Toronto restaurants participated, up 23 from last year, and that about 65,000 burgers were sold. Burger Day, which caps off the week with performances, film screenings and speakers, saw attendance grow to 5,000 from 2,400 in 2012, with about 65,000 sliders sold.
Meanwhile, the inaugural Toronto Cocktail Week saw 60 venues participate and was host to 27 events over seven days, including two galas that were attended by 500 people each.
Turnbull says building the brand's events business will continue to be a primary focus for the publication as the calendar turns to 2014, adding that The Grid is looking to add at least three new events to its schedule next year, including launching a spring edition of its Cocktail Week and a potential event in partnership with Blue Ant Media. All told, he expects events to make up about one third of The Grid's total revenues next year, and says the new events will focus on similar themes to ones it already has in market.
"Any event we put resources toward has to seem like a natural brand extension for The Grid," he says. "The qualities we represent in our print product need to be represented the same way for an event, so we'll continue to focus on what we do best, which is lifestyle and arts and culture."
Turnbull says this new focus on events is a response to increased demand from clients, who are shifting ad dollars away from traditional print and digital buys to branded content and experiential activations.
"It's been a tough year, but the very core of what we do is based on the assumption that print will be a loss leader for us, but allow us to do other things," he says, adding that print and digital revenues are expected to make up about 60% of The Grid's revenue in 2014.
These other business streams include capitalizing on the momentum The Grid has built in the mobile space in the past two years through its work with brands like Grolsch and the Toronto International Film Festival on The Grid Does TIFF. Turnbull says he expects mobile to account for about 10% of The Grid's revenues in 2014.
Looking ahead, Turnbull says The Grid will also shift its editorial focus in print and digital to capitalize on hot button issues like Toronto's upcoming mayoral race and the rapid growth of the city, adding that print will continue to be at the heart of The Grid's business plans.
"The paper is still our greatest marketing vehicle because it comes out every week and reminds people of who we are and what we stand for," he says. "Our strategy will allow us to open even more business streams, but we'll focus on events and mobile before branching out too far from the core."
Related:
Future of print: Postmedia's evolving cross-platform strategy
Future of Print: Spacing magazine to open physical retail store