Metro partners with Douglas Coupland for series
The daily newspaper is pairing non-fiction pieces with a chapter of new content from the author each weekday in November, with a sponsorship spot open around the series.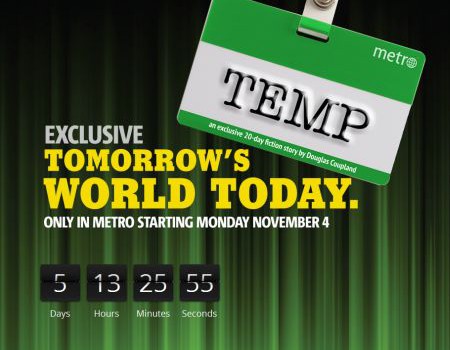 Metro is partnering with author Douglas Coupland to run a new exclusive serialized story called Temp each weekday in November in its Canadian and global editions.
The partnership with Coupland came together when the author approached the paper with the idea for a serialized story, publishing a piece of his new work each day, Jeff Smith, VP, creative and ideation at Metro, tells MiC.
Each weekday beginning Nov. 4, Metro will be publishing a piece of the story, and pairing it with non-fiction articles around the topics presented in Coupland's work each day, such as temporary employment.
Smith says while there won't be a lot of advertising running around Coupland's story there is an opportunity for one sponsor to pair itself with the content.
In addition to the 20 pieces of serialized fiction, Coupland will be speaking about the project with Metro readers at Ryerson University's Ted Rogers School of Management on Nov. 12. Tickets to the event can be reserved through Metronewstemp.eventbrite.ca.