Mark's partners with CFL for playoffs
The brand is the official casual wear retailer of the 101st Grey Cup and will have in-stadium and on-field branding throughout the playoffs.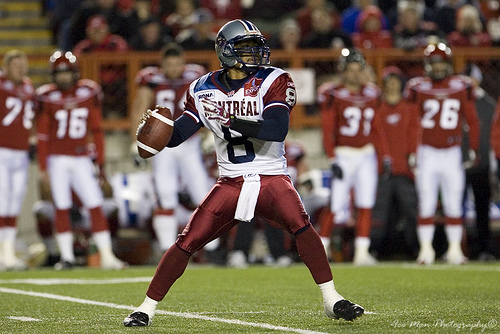 With the CFL regular season winding down, Mark's has announced that it's teaming up with the league as the official casual wear retailer of the playoffs and the 101st Grey Cup.
The deal grants Mark's rights to use the names and logos of CFL member clubs and CFL and Grey Cup logos, as well as player images and trademarks. It also presents the Canadian Tire Corporation-owned retailer with opportunities for in-stadium and on-field branding throughout the playoffs and during the Grey Cup, digital exclusivity within category, direct-to-consumer opportunities and access to leaderboard and big box ads across multiple CFL media properties.
Additionally, Mark's will be running contests through its Facebook page in the lead-up to the Grey Cup. The first contest will invite consumers to share why they love the CFL for their opportunity to be named the Ultimate Mark's CFL Fan and win season's tickets.
Kal Irani, VP of marketing, Mark's, tells MiC that this is the first time Mark's has launched a major partnership with the CFL. He says Mark's sought out the partnership following consumer research it conducted for its rebrand this fall, which suggested that its target consumers, now a younger audience of adults aged 30 to 49, were interested in sport and also valued the CFL.
He adds that the partnership was also a good fit because it allows Mark's to leverage the CFL's Canadian heritage to strengthen its regional push through its in-stadium activations.
Irani says Mark's chose to partner with the CFL specifically for the playoffs and Grey Cup because Mark's is a seasonal business with its peak sales coming in fall and winter, right around the time of the big game. He adds that leveraging the playoffs and the Grey Cup also offered the brand the most reach for its dollar, but noted that a potential full-season partnership isn't off the table.
The 101st Grey Cup kicks off Nov. 24 from Mosaic Stadium in Regina.
Photo: Ice Man Photography, Flickr Creative Commons