Ender's Game gets interactive on YouTube
EOne Films is promoting the launch of the movie with a takeover game that allows site visitors to play using their mobile devices.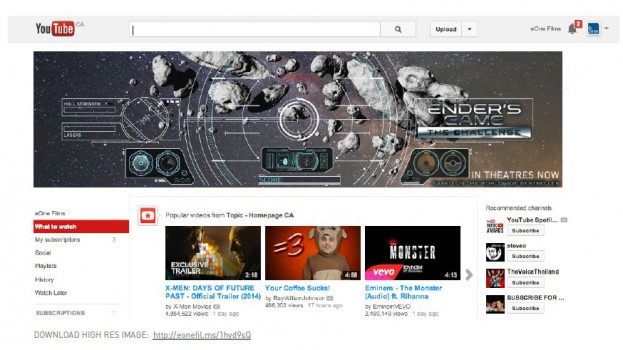 YouTube visitors can interact with the site's masthead ad today thanks to a promotion for the opening of eOne Film's Ender's Game.
With media and creative by Toronto-based Spoke Agency, the masthead ad asks visitors to enter a URL into the browser on their mobile devices to turn them into controllers for the online game on the video site. The two devices are linked through Google's Double Click Rich Media technology using Channel Connect and an HTML 5 design on the mobile side, Jeff Greenspoon, CEO, Spoke, tells MiC. He says his team wanted to create the one-day online game without making the users download any extras in order to interact with it.
Once the two devices are linked, users play the game as Ender Wiggin, flying the International Fleet Battleship through space. Once they complete the game, users are asked to share their scores on Facebook or buy tickets for the film's opening weekend.
"The experience puts fans in the scenarios that commence Ender's training from the storyline," says Kai Exos, ECD at Spoke. "A team of half-a-dozen technologists and designers crafted the gameplay during the partnered integration with YouTube."
Greenspoon says the execution, which is meant to generate mass awareness for the movie's launch while zeroing-in on males aged 18 to 24, was unique in its Canadian conception and creation.
"It is a cool execution because you don't often see Canadian distributors pushing the limits of what you can do with marketing technology and innovation," he says. "It is often posters and websites that have been re-purposed from the US that are used to promote movies in Canada."