Febreze launches sleep programs with Shaw Media
The P&G brand is promoting its new Sleep Serenity collection with digital and on-demand streams aimed at putting people to sleep.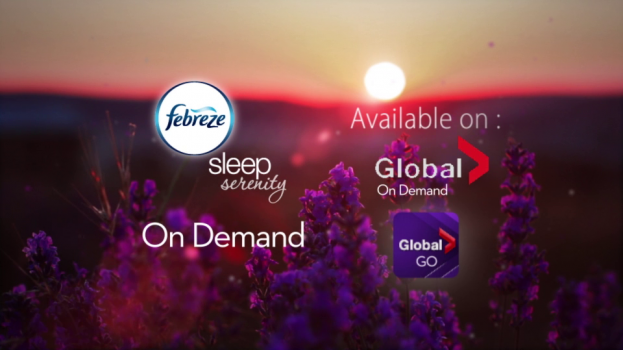 In a move reminiscent of Swiss Chalet's 2011 chicken channel, P&G's Febreze has partnered with Shaw Media to promote its new Sleep Serenity Collection with three on-demand television programs aimed at promoting a good night's sleep.
With media from Starcom MediaVest Group and additional work from MediaCom and BCP, the three programs are available on Shaw Media's Global Go app and on Global Television's video on demand channel, each featuring a 60-minute program featuring soothing music and images aimed at easing the viewer off to sleep.
The three streams are themed to reflect one of the three new scents in the collection: Moonlit Lavender,Warm Milk & Honey and Quiet Jasmine and are targeted primarily at women aged 25 to 54, Christine Saunders, EVP, managing director at Starcom MediaVest Group, tells MiC.
Promotions for the sleepy programs will run on Shaw Media properties around the time people are thinking of heading off to bed or are having a tough time staying in dream land, between 10 p.m. and 2 a.m.
Errol Da-Ré, SVP, sales for Shaw Media says this execution is the first time the media co has used its on demand platform for something "as strategic as this."
Content on each of the three programs will link to an online hub at Mysleepserenity.ca that will include coupons and a directory of where to purchase the new line, adds Saunders.