HollisWealth channels heritage for rebrand
The Scotiabank-owned financial advisory network has launched its largest campaign ever, which includes print buys and leveraging Scotia's NHL sponsorship ties.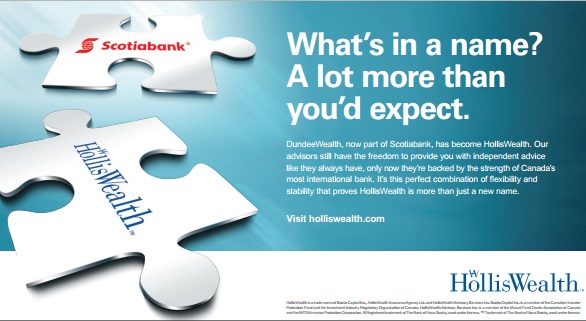 Toronto-based financial advisory network DundeeWealth has officially rebranded as HollisWealth, and is promoting its new image and brand positioning in a mass, multi-platform campaign.
HollisWealth operates nationally, with businesses in major cities, including Winnipeg, Halifax, Calgary and Vancouver, as well as in smaller communities, and the rebrand comes after the network was acquired by Scotiabank in February 2012. Tuula Jalasjaa, managing director and head of retail advisor network, HollisWealth, tells MiC that the new name was chosen to connect HollisWealth to Scotiabank's history (Hollis street in Halifax is where Scotiabank's first head office was built in 1837).
She says HollisWealth's first campaign will focus on pushing its core brand proposition, which is focused on the flexibility it offers as an independent network and the stability it can provide clients as part of Scotiabank's broader network.
The campaign will rely primarily on print ads running in national dailies and local papers in communities where HollisWealth operates, like Timmins, Ont., Moncton, N.B., Prince Albert, Sask. and Red Deer, Alta., among others. HollisWealth has also launched a new website as a resource for customers. Additionally, the financial advisory network will be rolling out "Living Longer, Living Better: Planning for Longevity in Canada," a national speaker series that will offer consumers financial advice.
Rounding out the launch campaign, HollisWealth will leverage Scotiabank's sponsorship ties to the NHL, with activations online and in arenas.
Media planning was handled internally by Scotiabank's marketing team, while Bensimon Byrne handled the creative. Jalasjaa says the campaign is targeted at high-income adults of all ages.
She says that due to Scotiabank's support, this is by far the largest initiative the financial advisory network has ever rolled out. She adds that given that HollisWealth's client base of about 450,000 is spread throughout communities across the country it was natural to invest most heavily in print at the local level to reach them and potential new customers.
The campaign's first flight will run for the first three weeks of November, with additional flights rolling out in various forms for the rest of 2013 and beyond.