Target kicks off a holiday push
The retailer has debuted its first holiday campaign in Canada with a media buy from Carat, to emphasize it's a one-stop shopping destination.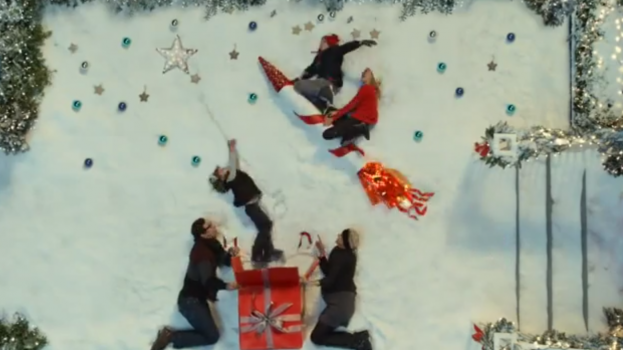 Following Target's holiday-themed World MasterCard Fashion Week debut, the retailer has unveiled its first holiday campaign with new creative around the theme "My kind of holiday."
"It's really about making those holiday moments special," Livia Zufferli, VP marketing, Target tells MiC. "All of the [TV spots] will focus on special holiday moments [such as baking cookies, eating turkeys or singing karaoke] and how Target can play a role. And part in parcel of that broadcast, we'll really be reaching out to our guests and fans [asking] 'Help us understand your holiday. What are the special moments and rituals your family and friends participate in?'"
The brand will debut six TV spots today (created in conjunction with the Target's U.S. arm from L.A.-based 72andsunny), which will run until Dec. 23, with a media buy from Carat. The TV spots will focus on various Christmas touchpoints, Zufferli says, including category-focused ones around toys and electronics, and more broad-based commercials focused on holiday trim and tradition (such as the one debuted online following the brand's holiday-themed catwalk last week, highlighted below.) Each end with the hashtag #Mykindofholiday.
The spots will run on a mix of conventional and specialty programming, with a strong focus during primetime, as well as a strong presence during November sweeps and December Christmas specials.
The brand has also partnered with six CityTV Breakfast Television shows across the country to outfit the sets with Target holiday decor and host contests with BT viewers, says Zufferli.
The TV spots will be supported by two catalogues – including a children and teen's gift guide and a full-seasonal catalogue for all ages – to be mailed to millions of households, as well as radio ads and Black Friday activities in stores, which will be pushed out throughout the duration of the campaign. The local activations were handled by Toronto- and Montreal-based KBS+, with Veritas handling PR. The brand will also leverage its large social media following on Twitter and Facebook to engage consumers for their feedback.
The campaign is aimed at a wide-ranging audience, though Zufferli says Target's sweet spot is moms aged 25 to 41 who are digitally savvy and appreciate the benefits of shopping at the retailer. "We really do want to help elevate an everyday moment and make something more special, always bring it back to our brand promise of 'Expect more; Pay less," she says
The holiday debut comes amid a recent investor conference call in Toronto last week, where the brand admitted its Canadian sales weren't as strong as originally predicted and that Canadians have misunderstood Target pricing, which it says is competitive with Walmart.
During the conference call, Tony Fisher, president of Target Canada, said the brand needs to emphasize the "pay less" aspect of its brand promise. "This requires us to redefine the perception of what a trip to Target means, so we can fundamentally change habits in a market where consumers are accustomed to visiting many other competitors to accomplish all of their shopping," Mr. Fisher said. "My kind of holiday" is designed to teach consumers it's a one-stop shop, Zufferli says.
During an interview this summer, Zufferli said of the issue: "We started the year knowing that we have a lot to tell about this brand. And in the beginning, people loved hearing about the general launch and design partnerships, so we told those parts of the story well. [Now] we want to expose them to more of the categories in store – and pricing and value is a big part of that. We are one of the best price leaders in the marketplace, and perhaps [that needs to be] a bit more crystallized in the marketing communications."