Metro rolls out a new front-page ad format
The waterfall wrap, a multi-page unit that reveals new content as readers flip through, launched with an ad from Mazda Canada.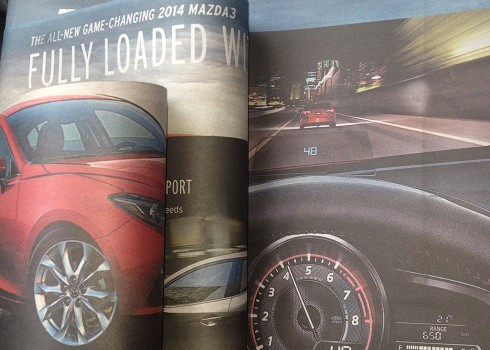 Metro has added a new variation of the traditional front-page wrap to its portfolio with the launch of the waterfall wrap format, a multi-page unit that reveals new creative as readers flip through and leads to a full-page ad.
The new format rolled out this week with an ad from Mazda highlighting the features of the car maker's newly released Mazda3 model. Excelerator Media handled the media buy while JWT took care of creative.
Jeff Smith, creative director, Metro, tells MiC that the free daily will offer up the new unit to other clients in the future, adding that automotive, fashion retailers and CPG brands would all be good fits for the format.
Looking forward, he says Metro intends to stay its current course when it comes to print.
"There's buzz in the industry that print is dead, and while print may be dead for other organizations, it's not dead for Metro," he says. "We're going to continue to innovate and find solutions. Print has a great future. We just need to find the right executions that work and deliver results."
The waterfall wrap is just one format Metro has introduced in the past 12 months. Last November the Torstar-owned daily introduced the splitter, a unit that cuts the double-page spread in half horizontally and launched with ads from Wind Mobile and the LCBO.
As Metro turns the calendar to 2014, Smith says the primary focus for the paper will be to bridge the gap between print and digital advertising by integrating the two together and working with clients to find ways to better engage readers.