Mercedes-Benz partners with Canadian Opera Company
The carmaker has launched its first large-scale arts and culture sponsorship, which will include on-site vehicle displays at Toronto's Four Seasons Centre.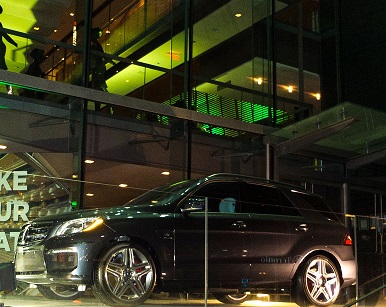 Mercedes-Benz Canada and the Canadian Opera Company have reached an agreement, which will see the carmaker become the organization's exclusive automotive sponsor. The title was previously held by Jaguar Land Rover.
As part of the two-year deal, Mercedes-Benz will have three vehicle displays at Toronto's Four Seasons Centre (two interior displays and two exterior). The brand will also have ads on the side of the building and in programs, as well as an added presence, including extra branding and vehicle displays, at special events and presentations put on by the Canadian Opera Company.
JoAnne Caza, director of communications and public relations, Mercedes-Benz Canada, tells MiC that the partnership was a matter of good timing, noting that while both brands are well established with older, high-end consumers, they are also both looking to become more relevant to younger audiences.
She says that the traditional target for Mercedes-Benz has been males above the age of 50, but adds that over the past couple of years, the brand has been making its prices more competitive to appeal to an audience of adults aged 25 to 35.
Caza says the partnership with the Canadian Opera Company is Mercedes-Benz's first sponsorship of a major arts and culture property, adding that the brand may look to add more sponsorships in the category to its portfolio.