Spotted! Mattel mixes shopping and play
The toy maker has launched Digital Shop 'n Play, its first interactive pop-up store, at the CN Tower and will look to make similar activations part of its future strategy.
Mattel is shaking up the holiday shopping experience and promoting its brands like Barbie, Max Steel, Monster High and Thomas and Friends, with the launch of Digital Shop 'n Play, a pop-up store and interactive playground.
Located at the base of the CN Tower, the pop-up store is targeted at families and was planned and created by Brandfire Marketing Group, with TrojanOne helping with Monster High and Max Steel executions on site. The pop-up store is being promoted through social media and blogger outreach.
Donna Polimac, senior marketing manager, Mattel Canada, tells MiC that Digital Shop 'n Play is a first for Mattel and marks a significant investment for the brand, noting that it's part of Mattel's overall strategy to change its approach to retail and play. She adds retail and play are gradually becoming interwined, as consumers are looking for more customized and convenient in-store shopping experiences that also allow them to engage with brands before buying.
While Mattel has launched a similar holiday-themed activation with Walmart through its virtual toy store, Polimac says Digital Shop 'n Play differs because it's about more than offering consumers a convenient way to shop in an alternative location and will go beyond the holidays, becoming a core part of the brand's plans going forward.
Digital Shop 'n Play allows visitors to browse Mattel's "endless shelves" using a large gesture-controlled screen. They can then create wishlists to forward to their phones or to family members, and also purchase from Mattel's retail partners, including Amazon, Sears and Toys "R" Us.
The activation also includes exhibits for each of the toy maker's brands, which infuse physical play with digital interaction. Kids can watch Hot Wheels-branded webisodes and play with the toy cars, while a Max Steel execution uses augmented reality to allow visitors to have their picture taken with the character and play a videogame.
Meanwhile, Barbie activations include a digital vanity, which allows girls to put virtual makeup on themselves using an iPad, and a digital closet, which allows them to try on clothes that are projected onto them on a large screen.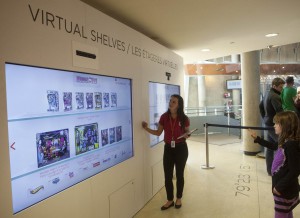 Additionally, Mattel is promoting its Monster High brand with an gesture-controlled activation that lets kids select which monster they want to be and then be projected onto a screen as that character, while new toy line Ever After High is being promoted with an interactive music video. Other brands included in Digital Shop 'n Play will be Fisher Price and Thomas 'n Friends.
Digital Shop 'n Play officially opens today and will be at the CN Tower for the next three weeks.