Pattison rolls out a new ad unit
The OOH company has introduced the Super Train, a full exterior wrap of a TTC subway train, as part of a new campaign from Bahamas Tourism.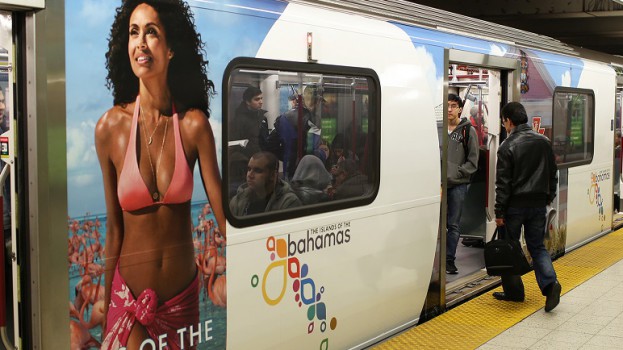 Pattison Outdoor Advertising has leveraged its position as the exclusive ad space provider of the TTC to introduce a new ad unit to its OOH portfolio in Toronto.
The new format, called a Super Train, includes a full exterior wrap of a TTC subway train and is being used by Bahamas Tourism in its latest campaign, with media by Toronto-based VMC Media and creative handled in-house.
Joe Donaldson, VP of marketing, Pattison Outdoor Advertising, tells MiC that Pattison will be rolling out the ad unit to other clients in the future, noting that most brands, including high-end luxury, CPG and automotive brands, are a good fit for the format, given the demographic diversity of TTC passengers. He adds that Pattison may also look to roll the format out in other markets, should the opportunity present itself.
Donaldson says the OOH industry is rapidly shifting as advertisers are looking for more integrated solutions that go beyond static OOH, adding that the Super Train will be a game-changer for Pattison, because it offers 435 feet of creative space for advertisers to work with, and it can also be integrated into broader media plans that include a mix of static and digital.