PHD takes home gold at Internationalist Awards
The Omnicom agency nabbed the award for work with Scotiabank, while Carat took home silver and bronze prizes and M2M earned a silver award.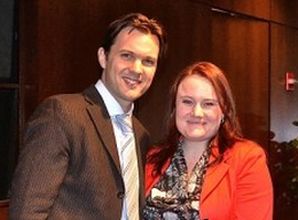 Omnicom agency PHD was the big Canadian winner at the Internationalist Awards for Innovative Digital Solutions last week in New York.
PHD was the only Canadian agency to take home a gold prize, nabbing the award for its work on Scotiabank's "Warm up to Winter" campaign to promote a travel card partnership with American Express. The brand leveraged Jaunt.ca and Blue Ant Media's Travel+Escape, creating content hubs on the sites for both, and relied on blogger posts and launching a five-part "Warm up to Winter" video series. Scotiabank also sponsored a travel video series Beyond Wanderlust: The New Nomads and activated with opening and closing billboards.
Elsewhere, Carat was a winner of two awards. The agency took home a silver prize for work with GM on its Chevrolet Spark launch campaign, which kicked off with a partnership with the Osheaga Music and Arts Festival. It also included a 300 x 600 banner, placed on sites targeted at adults, aged 21 to 35, that featured a pre-roll ad that allowed viewers to unlock and explore different features of the vehicle by texting the word "spark" to a short number.
Carat also nabbed a bronze prize for work with CCM to launch the new RBZ hockey stick. The campaign saw the brand partner with Xbox to create a branded destination within the Hockey Central section of Xbox Live and launch a contest, offering free hockey sticks and a trip to the Reebok/CCM Pro Hockey Summit in Vail, Co. For the next phase of the campaign, original content was created around the contest winner's experience at the hockey summit. The brand followed this up by partnering with NHL2K13 and reintroducing its Xbox branded destination, where it offered gamers a chance to get RBZ hockey sticks for their avatars.
Rounding out the winners, M2M nabbed a silver prize for work with HTC on its HTCOne launch campaign. Targeting millennials, the brand partnered with Vice and Say Media, unifying the entire campaign with social media extensions using the hashtag #HTCOne. HTC sponsored a Vice concert series, granting exclusive access to key influencers and activating on-site by letting concert-goers create branded posts. HTC also leveraged the performers' social networks and ran the series as branded content on the Vice digital network. Meanwhile, the brand tapped Say Media's grassroots editors to create custom content using the HTC device. The content ran through Say Media's network, and was supported by a "Canada's Next Influencer" contest that saw HTC set one winner up with a start-up package to help them turn their blogging passion into a career.
Click here for a complete list of winners.
Photo: Chris Dean, account executive, digital advertising sales BBC Worldwide, and Caroline Moul, VP of digital and emerging media, PHD.