Bell Media rolls out CTV GO
The free mobile and desktop app will allow for live and on-demand viewing and offer advertisers a new suite of large display and clickable pre-roll ad formats.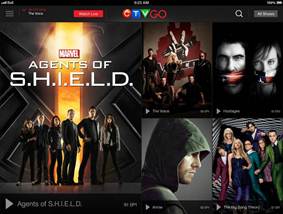 Bell Media is growing its portfolio of cross-platform viewing apps with the launch of CTV GO, which allows viewers to watch episodes from about 60 CTV and CTV Two programs live on mobile and desktop devices.
CTV GO also includes an on-demand library, with over 3,000 hours of programming. Adam Ashton, SVP, business operations, Bell Media, tells MiC that the library will consist primarily of episodes from in-season shows like Marvel's Agents of S.H.I.E.L.D., Arrow, Grey's Anatomy and The Big Bang Theory to allow viewers to catch up on series, but says it will also include past seasons of select shows.
Additionally, the service will offer live viewing of major broadcast events like the Super Bowl and the Academy Awards, among others.
CTV GO joins the Bravo GO and TMN GO services, both of which were launched earlier this year, and Ashton says Bell Media has plans to launch TSN GO, RDS GO, CTV News GO and CP24 GO, as well as GO products for its specialty channels in the near future.
The service is available on iOS and is also the first of Bell's GO services to be available for Android devices. Ashton says that both Bravo GO and TMN GO will launch on Android in the near future.
CTV GO is available free of charge to anyone with an existing cable subscription, and users will be able to use the app for seven days before being prompted to authenticate an account by getting credentials through their cable provider.
Along with the traditional ads that will play during live broadcasts, CTV GO will offer advertisers a suite of new and larger display ad formats, as well as clickable and interactive pre-roll units. CTV GO also boasts dynamically revealing ads, which means ad space will be hidden unless the inventory is sold.