Omni relaunches online presence
The Rogers Media brand has launched a new website aimed at becoming a second screen for the channel with content in 27 languages.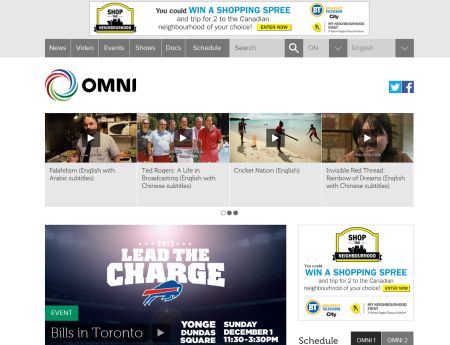 Rogers Media's Omni brand has relaunched its website with an eye on turning the multicultural broadcaster's online home into a second screen content hub. The channel's audience has the highest reach amongst Mandarin and Cantonese speaking Canadians as well as South Asians, according to a representative from Rogers Media.
Andrea Gagliardi, senior director and general manager, digital, broadcasting, Rogers Media, tells MiC that prior to the redesign the broadcaster's site served as little more than a marketing tool with a schedule of shows for the TV channel.
"The site wasn't responsive and didn't work well across platforms," she says. "It made it a tougher job for consumers. [Now] it is bringing content to the forefront, where it wasn't before."
Omni's new online home, at Omnitv.ca is built using responsive design with a focus on content. Users have the option of viewing content on the site in 27 languages, focusing on videos, including more than 60 documentaries and longer form interviews, says Gagliardi.
She adds advertising opportunities on the redesigned site can be targeted to the device users are viewing it through or by factors like location and language.