Walmart's fly(er) pyjama party
The retailer, with help from Mindshare and JWT, has outfitted 100 pyjamas with its latest flyers for distribution on The Social
As part of Walmart's ongoing holiday initiative, the brand and its media and creative agencies, Mindshare and JWT, have partnered with Bell's The Social, on CTV, to give audience members and social media followers a different kind of flyer experience.
To help promote the brand's updated online shopping portal, they printed the retailer's latest flyer, replete with Christmas gifts and trim, onto a pair of silky pyjamas.
"Shopping in your pyjamas [and the] online store – they fit together perfectly," says Brent Choi, chief creative and integration officer, JWT. "This year in particular, there's a big emphasis on the flyer because of the new online store – so we found it easy to combine the two [mediums]."
The PJs will be dished out to audience members as part of a toy segment, highlighting available-at-Walmart kids gifts. It'll also be part of a prize pack offered to Twitter followers who engage with the show on that platform.
The partnership with The Social is part of an on-going effort on behalf of Walmart to deepen its integrated content following success from its "Mom of the Year" work in 2012, which included in-show segments with The Marilyn Denis Show, says Stephanie Fleming, associate director, Mindshare. "[The Social] is right on our core target, so it immediately caught our attention."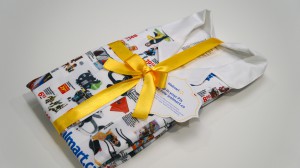 The TV show, which reaches women, ages 25 to 54, played really well into the brand's summer launch of its "Moms' Personalities" campaign, featuring different types of mothers, since each of the four hosts have very different personality types, she says.
This is the second time in as many weeks that a brand has flipped a staid and traditional media on its head. Earlier this month, Orville Redenbacher created "The World's Most Entertaining" coupon, featuring a comedian doing stand up, inviting customers to print the page (which had a coupon code pasted on the top of the stage).