Juice Mobile launches voice-activated ad
Neil Sweeney, CEO at the mobile co, tells MiC about kicking off the ad unit in Canada with its partner Nuance Communications.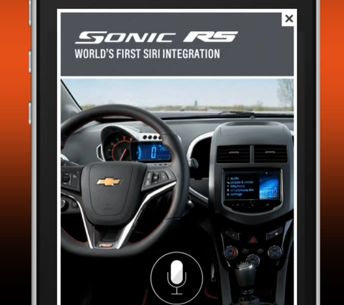 Juice Mobile, in partnership with voice and language solutions company Nuance Communications has launched a voice-enabled mobile ad unit.
Juice's voice-enabled ad unit gives users the opportunity to tap on the ad and then interact with it using Nuance's Voice Ads technology, which involves consumers in the dialogue through voice recognition and provides real-time feedback.
The unit is in market now with General Motors to promote its Siri integration in the 2014 Sonic on sites including MLB.com and Weather Bug, with the ad demonstrating the car's ability to do things like play music on command through voice recognition, Neil Sweeney, president and CEO, Juice Mobile, tells MiC.
Sweeney says Juice is in talks with a couple other clients to launch ads with them in the next couple months, adding it takes about three weeks to code the ads because of the level of detail needed for each voice-activated response. He adds the voice-activated ads can be run in nearly any language, as long as the technology is available on the site to support the unit.