MiC's Most Clicked 2013: Oreo gives fans the One Direction treatment
A contest from the Mondelez brand around the pop group this summer (unsurprisingly) garnered big hits.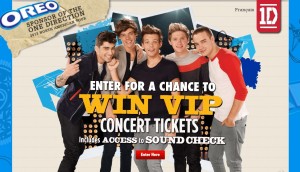 MiC is winding down 2013 this week with a round-up of the most-clicked stories of the past year.  Proving the group has fans within the media industry (or curious One Direction fans who found the story through searching the band), the third most-read story of the year was a piece on Mondelēz brand Oreo's contest with the massively popular pop group One Direction.
Oreo's contest offered fans the opportunity to win VIP tickets, including access to sound check to one of four shows in Vancouver, Toronto and Montreal.
Melissa Grant, senior brand manager, Oreo, Mondelēz Canada, told MiC that partnering with One Direction offered the brand a chance to leverage the band's popularity and relevance to target and engage with a younger demographic, while still reaching its broader family audience. Overall, there were 151,959 online entries in Canada during the contest.
MiC Most Clicked 2013:
#5: Molson brings Coors Banquet to Canada
#4: More changes at Bell Media