MiC's Nice List: Best of 2013
From an anti-gun PSA to zombie fingers, the editorial team at MiC and strategy showcase their favourite campaigns from the last 12 months.
We have the good fortune of seeing new work from the Canadian advertising industry on a daily basis, but some pieces stand out more than others, and we have compiled a few of them here. Check out what strategy and MiC chose as their favourite projects from 2013 and keep the genius work coming in 2014.
Mary Maddever, publisher, Media in Canada and strategy: My favourite adland initiative of the year is a particularly satisfying chapter in an unfolding story about the value of brands, and brand values.
BrandAid, the Canadian-hatched global initiative that sees agencies create branding for Third World artisans, has finally come home to roost via distribution in Hudson's Bay. Debuting pre-holiday with shop-in-shops, collections of cement bag and tobacco leaf bowls, papier mâché animals and hammered tin pieces, are finding new homes while bolstering the economy of Haiti, where they hail from.
Co-founded by Tony Pigott, who recently retired from heading up JWT's CSR arm Ethos, the five-year-old BrandAid program has seen several Canadian agencies – like JWT, DDB, Ogilvy and Taxi – step up and give their time over the years to create brand identities for the Haitian artists and their handicraft lines.
The brand aid has also extended to profile-raising (like New York Fashion Week exposure, as BrandAid Project was launched with Diane von Furstenberg and Vanity Fair at Fashion Week in New York three years ago), and securing high-end retail distribution in the UK and US – at Selfridges and Macy's – which has meant craftspeople receive 25% of proceeds, a much higher proportion of the merchandise revenue than they'd ever see without the support. BrandAid also plans to step up its identity-creation collaboration efforts, and extend to artisans in more countries in need of brand intervention.
Although BrandAid was spearheaded here, this year marks the first time the items were available at retail in Canada. With a big PR push, crisply popping display design by Jackman – plus the HBC online shop – the attention and exposure signify the growing media weight of retail, plus its ability to powerfully blend cause and commerce. So kudos to Pigott and all the agencies who added brand value.
Matthew Chung, writer, strategy: Is there any better way to promote a new videogame about information warfare than with an app that immerses users in that game's storyline? How about by rewarding the app users' virtual actions with real-life activations that blur the lines between the gaming world and reality? Ubisoft Canada and its agencies Publicis and ZenithOptimedia, did just that with the campaign for Watch Dogs.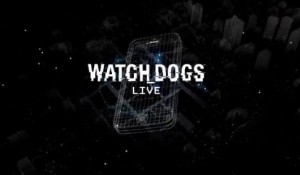 For the launch of the Watch_Dogs Live app in July, people were invited to join a community called Dedsec to help bring to justice a fictional media magnate who had hacked the system and stolen millions of dollars. Using the app's geo-locating functions, users hack into real-life locations like a coffee shop or art gallery near them to take down the villain's network.
A few weeks later, this new community of virtual hacktivists saw the fruits of their labour after Dedsec challenged them to hack the villain's bank account: once the task was completed, a real-world ATM in a Mississauga mall started spewing cash. Other stunts saw an abandoned car get blown up and TSN's Off the Record get "taken over" by hacktivists, all extraordinary stunts that rewarded the community while building buzz for the game.
While the delayed release of Watch Dogs from November to sometime in 2014 was a bit of a disappointment for gamers, on the bright side for creative-watchers, it left the brand with more time to do outside-the-box promotions.
Jennifer Horn, special reports editor, strategy: It doesn't make a lick of sense to compare, like you would apples and oranges, the side effects of Kinder Surprise chocolate with assault weapons. But when Grey Canada juxtaposed the chocolate toy-filled egg with a deadly rifle in print ads to point out certain American state bans on items of joy and not on those intended to cause harm, it made all the sense in the world.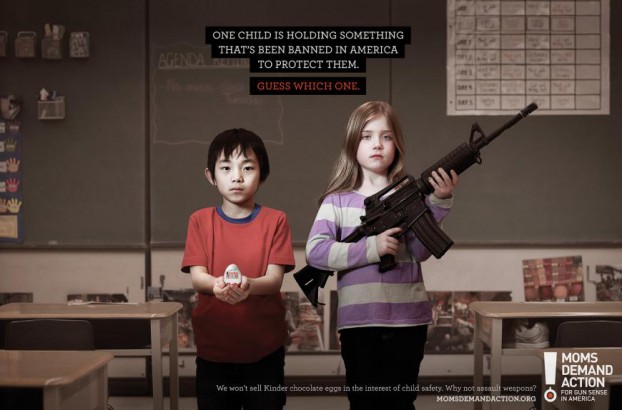 It's not just the Italian chocolate that has a bad rap stateside. The PSAs for the non-profit Moms Demand Gun Sense for America also challenged the frivolous prohibition of dodgeball, a common recess activity, and Little Red Riding Hood, an iconic child's book, after several schools banned the items for fear of their harmful effects on children.
The placement of trivial items beside that of destruction is a stark reminder of the issues around gun control in America and helped lead the agency to take home a Silver Cannes Lion and numerous other accolades at international and national awards shows this year.
And personally, the reason I chose this campaign as my pick of the year is because of the images' delivery. While the child handling a firearm was hauntingly effective in stirring emotion on its own, the headline "One child is holding something that's banned in America. Guess which one" and copy that questions how it's easier to purchase an assault weapon than an Easter egg effectively underpinned the argument around a convoluted and critical issue today.
Megan Haynes, news editor, strategy: Pogo, a love story. Content seemed to be the buzz word of 2013. And whether that was an interactive Volkswagen campaign or a full-length feature movie, stories seemed to be at the fore of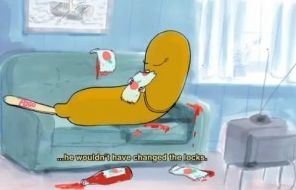 advertising.
One that struck me was a simple animated story about two Pogos in love. You read that right, two Pogos… in love. At least until a divisive debate ripped them apart.
This campaign for the ConAgra brand, by Toronto-based Blammo, targeted young adults and teens, and ran on the French-language channel Musique Plus. It aimed to ignite the mustard versus ketchup debate, leveraging the channel's social following to bring the argument online.
With the relatable characters (even if they're literally stick figures), the love story and the heartbreak, this may just be a better love story than Twilight.
Emily Wexler, managing editor, strategy: My choice this year is a bit biased because I'm a huge fan of The Walking Dead, but I thought the gruesome "countdown clock" that Leo Burnett created for the show's premiere last winter was fun and perfectly on-brand.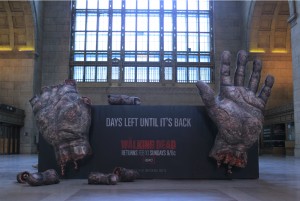 In case you missed it, it consisted of two giant eight-foot-tall "walker" (a.k.a. zombie) hands in Toronto's Union Station, and each day a finger was cut off leading up to the premiere. Pretty gross, but makes perfect sense for a show that rivals the nastiest horror movies when it comes to the gore factor.
But wait, there's more! They had "walkers" chained to the display for an afternoon, and passersby could take their picture with the hands and tweet it to actually win one of the fingers.
I reached out to Leo Burnett to ask if they knew what happened to any of the fingers. One winner planned to take his finger to ComicCon and another brought it to a friend's birthday party as a gift. Talk about a conversation starter.
Val  Maloney, associate editor, MiC: Turning heads online way before Beyonce's recent surprise album, Burlington, Ont.'s own Walk Off the Earth, who first gained popularity for their cover of Gotye's "Somebody That I Used to Know" partnered with Volkswagen this fall to launch a music video promoting the car co's recently redesigned Beetle. The video, done for the band's song "Gang of Rhythm," was shot three ways, each illustrating traits of one of VW's new models of the classic car.
The online video medley features a soulful version to go with the Super Beetle, an electric guitar-heavy version to pair with the Beetle GSR, and a third using both real instruments and car noises to go with the Beetle Convertible. Each version of the song is completely synced with the others, so viewers can flip between them to create a custom track. Media for the spot was done by MediaCom, with creative from Red Urban.
As one YouTube commenter on VW's page said "I usually click past the ad as soon as possible. I just watched three commercials, totaling 11:03 minutes. Three ads for the same thing."