Leaf.tv launches shoppable video hub
The how-to video website offers lifestyle brands direct product placement opportunities for viewers to buy as they watch.
Online lifestyle hub Leaf.tv has launched a new website featuring shoppable how-to videos focused on living, eating and fashion. The L.A.-based venture from the creators of a YouTube channel of the same name will publish 30- to 90-second videos that teach viewers how to prepare meals, decorate their homes or put together an outfit and then give users the option to buy the products used in the video.
Canadian co-founder Erin Falconer (pictured below with co-founder Geri Hirsch), tells MiC that brands can get involved through direct product placement with prices ranging from as low as $1,000 to, depending on the scope of the integration and video series, up to the six-figure range.
"Our thesis is that we're reverse engineering the classic sales model, which is that it is not a direct sales play. Girls are coming here to learn and be entertained, and then they're walked into buying something, as opposed to being a site where you sell stuff and get your credit cards out," says Falconer. "We're of a real strong opinion that for this millennial generation [the classic sales model] is not the way they consume content, and that's certainly not the way they buy things."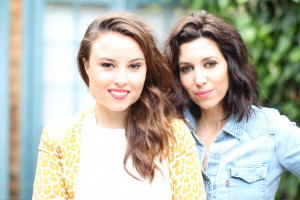 So far Leaf.tv has made strategic deals with bloggers and media personalities with wide social media reach and products to sell to drive early traffic, says Falconer. "It's not necessarily about us taking a high fee up front, it's more that they have huge social exposure and so we want to be able to continue to prove that we can get people to watch these video and get them to click through and buy whatever products they're selling so we can accumulate more data on that and go after a higher return with bigger brands."
Ten days into the launch in late December, the new site was drawing tens of thousands of visits per day, says Falconer, with about 77% of the predominantly female viewers falling between ages 18 and 49, with a low bounce rate of 15%. She says about 80% of the audience is in the US with Canadians making up the second largest audience group. Current traffic is comprised of 65% desktop and 35% mobile, she adds. While the site's current configuration connects primarily to US retailers, Faloncer says plans are being developed that will connect users to retailers in their own countries, including Canada.