Spotted! Scope dispensers freshen up restrooms
Procter & Gamble's mouthwash brand aims to reach consumers when they need it most with this well-placed OOH campaign.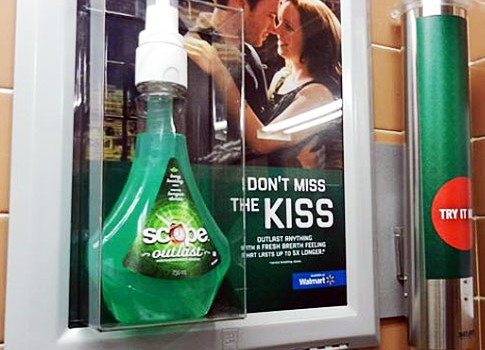 Procter & Gamble's mouthwash brand Scope has installed mouthwash dispensers on approximately 400 Zoom boards in the bathrooms of restaurants and bars in major Canadian cities. Victoria Maybee, communications manager, P&G Canada, tells MiC that the dispenser, accompanied by the message "Don't miss the kiss," is designed to reach the target of adults 25 to 45 when they need the product.
"It's part of a bigger objective to connect the brand with our consumers with the time that they're needing the product, adding this experiential component so that when the consumer is in this very relevant space, such as a restaurant, they can connect with the brand at a time that is very meaningful to them," says Maybee.
With media by Starcom MediaVest Group and creative by Azimuth and BCP, the campaign was launched late last year and is ongoing. The OOH campaign was extended to subway ads in Toronto on New Year's Eve with promo staff handing out samples in transit stations. It's supported by digital buys and video content shared on Facebook.
The activation is an evolution of Scope's OOH and experiential-focused strategy. "We know our consumers' brand awareness in recall and trial, those results are very good when we're able to connect with them at the right moment, when we're able to tie in the product benefit, fresh breath, at a relevant time and place," says Maybee.