Kraft and Keith's MasterChef Canada activations
The brands are the key sponsors of the Canadian edition of the show, which launches on CTV this Monday.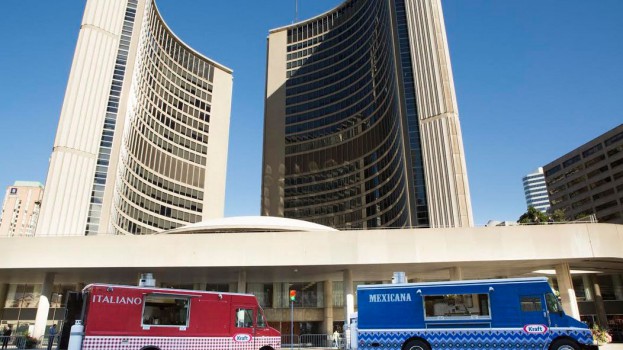 The first Canadian season of MasterChef Canada, which launches this Monday at 8 p.m. on CTV, will be backed by Kraft and Keith's as key sponsors.
Kraft's sponsorship will be based around its Philadelphia Cream Cheese, Kraft Peanut Butter and Kraft Shredded Cheese products, with culinary competitors using the products in recipes throughout the series, including through a food truck showdown (pictured).
Keith's will be integrated into the show through a beer and food-pairing program, aiming its target a bit wider than the typical male demographic it goes for, Laird White, director of brand partnerships, Bell Media, tells MiC.
The Kraft sponsorship was organized with Starcom MediaVest and the Keith's partnership with Labatt's agency UM, says White.

MasterChef Canada will see 50 Canadian home cooks vie for the chance to become the country's first MasterChef. The winner will take home $100,000 and the MasterChef Canada title and trophy. The show is getting a Super Bowl push, airing its first elimination episode following the game on Feb. 2.