NHL's human side on display in CBC doc series
NHL Revealed: A Season Like No Other has star hockey players unbottling pent-up emotions to promote the game and the league.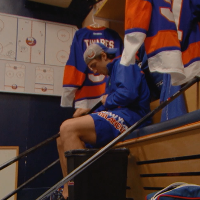 NHL stars are not usually called on to be human on CBC's Hockey Night in Canada, what with Don Cherry extolling players as warriors in the trenches gloriously fighting to settle scores.
Until now.
New York Islander Kyle Okposo recently had his first baby, and the CBC was there, as captured by NHL Revealed: A Season Like No Other, which debuts tonight at 9 p.m.
The debut episode follows Okposo and his wife, Elaine, on their way to the hospital, into the maternity ward and captures the expectant father in the waiting room.
"I'm ready to be a dad. That sounds so weird, but I'm excited," Okposo tells the camera.
The exchange sums up the emotionally charged storylines in NHL Revealed, as athletes facing increased pressure in their lives promote their game and the NHL on the CBC and NBC Sports Network, where the series bowed Wednesday night.
"The content is different from any other hockey series I've seen. The storylines and the stars are the narrative in the series," says Julie Bristow of Bristow Global Media, who executive produces the series.
"We've been focused on how do you grow the viewers to the game in terms of different territories with personal stories, the behind-the-scenes, and the all-access, on and off the ice," she adds.
The seven-part series tells the stories of nine NHL teams at and away from the hockey arena as they play regular season games, including at the 2014 Coors Light Stadium Series, and then head to battle for their home countries at the Sochi Winter Olympics.
"The action sequences have us using new technology and a new opportunity to get as much cameras and sound on the ice, to bring the core and casual viewer closer to the game," Bristow says.
Besides the traditional broadcast, NHL Revealed will stream on demand on iTunes, Google Play, Amazon Instant Video in the US market, and via YouTube rentals outside of North America.
TVA and Sportsnet in Canada will also air NHL Revealed.
From Playback Daily