La Presse on pace to drop print product
With one quarter of revenue now coming from La Presse+, Pierre-Elliott Levasseur, EVP, La Presse, outlines what it would take to shift to digital only.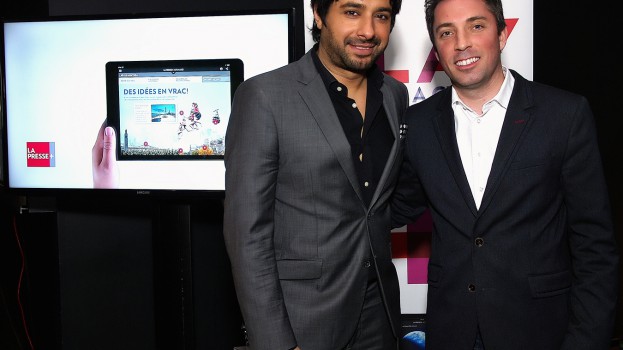 Despite not personally feeling like "the new sexy" seated next to Jian Ghomeshi, as he told the audience at FFWD Ad Week in Toronto yesterday, Pierre-Elliott Levasseur, EVP, La Presse, believes La Presse+ can reach an audience used to getting its news for free in a way that is lucrative enough to advertisers that the organization could be in the position to divest itself of its print product within a year and a half.
Touting the news app's ability to incorporate video, interactivity and graphic design for ads as well as editorial content, Levasseur says La Presse+ offers a new form of advertising. Along with full, half and quarter page ads that take advantage of what the tablet can do, the app give ads the ability to open a web browser without the navigation bar so the advertiser can continue its message and sell products or solicit signups without leaving the La Presse+ app.
The key is that the user is in control of their experience, says Levasseur. There are no pop-ups and no pre-roll interrupting the user, he says, adding that research shows about seven out of 10 readers actually like the ads on La Presse+.
The La Presse+ user base over-indexes in the 18 to 49 demographic, says Levasseur, adding about 74% of La Presse+ readers don't read traditional newspapers. Users who had previously accessed La Presse through the web were only spending a handful of minutes per month on the site, he says. Capturing that attractive audience  for more time was the impetus behind reorienting the news organization to think digital first, he says.
So far the free app has been downloaded to 400,000 tablets. There are 125,000 tablets that access the app daily for an average of 35 minutes per day on weekdays and 60 minutes on weekend days. Levasseur adds that research shows La Presse+ has about 1.5 readers per tablet.
Levasseur has stated that La Presse expects to eventually phase out the print edition of the newspaper to unburden itself from the heavy cost of production and distribution – about 60% to 65% of the cost of running a newspaper, he says. About one quarter of La Presse revenue now comes from La Presse+, he says. He tells MiC that to get to the point where the organization could shift to a model where 100% of the revenue comes from the tablet product, it would need about 300,000 tablets accessing the app daily, a level he expects La Presse+ could reach within 18 months. A final decision about the print edition would be based on consumer response and not any specific timeline, a La Presse spokesperson clarifies.
While time spent on the app has increased somewhat recently, Levasseur doesn't expect that to be a significant area of growth. "The goal isn't to add 20 new content categories. People are not going to spend 10 to 15 minutes more [than they already do] consuming news every single weekday," he said. With 800,000 print readers and about 1.8 million consumers who "touch the brand" on some outlet every month, Levasseur expects the likely audience ceiling for La Presse+ to be between one to 1.3 million.
Currently, Levasseur estimates tablet penetration in Quebec sits at about 35%, roughly in line with the 42% of anglophones who own such a device according to recent Media Technology Monitor measurements.
Levasseur says La Presse is in talks with organizations in Canada and Europe about licensing the technology as well as transition training for staff, and plans to engage organizations in the US in the coming weeks.
But Levasseur stopped short of saying La Presse would expand beyond its Quebec market. Turning La Presse into an English-language brand would not be successful, he says, pointing out that the La Presse+ platform has worked because it's a respected, known brand in the Quebec market, something he says is an "absolute criteria for success."
This article has been updated to clarify that a decision about ending the print edition of La Presse would be made based on consumer response and not any predetermined timeline.
Photo credit: Dave West Photography