Rogers unveils first NHL programming details
The media co announced it will expand Saturday night coverage, introduce younger-skewing Sunday night events and build a new NHL studio as part of its blockbuster deal.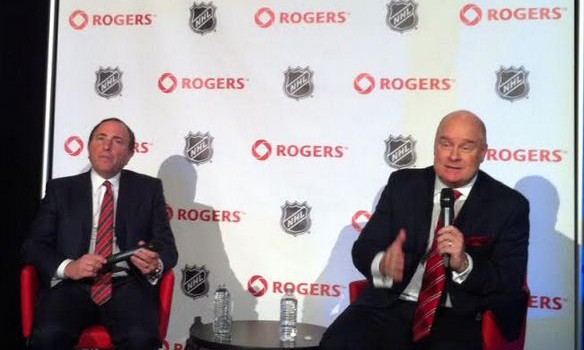 Rogers Media has unveiled the first programming details eight months out from the start of its $5.2 billion, 12-year deal with the NHL in Canada.
Overall the media co will broadcast over 500 regular season games across 13 networks, with up to seven games on Saturday nights across six TV channels and new Sunday and Wednesday night coverage, along with a new 13,000-square-feet NHL studio that will be built in the CBC's Studio 41 space, says Scott Moore, president of the NHL and Sportsnet at Rogers Media.
On Saturday nights the Hockey Night in Canada brand will be broadcast with more than 130 regular season games (up to seven games each week) on CBC, City, Sportsnet, Sportsnet One, Sportsnet 360 and FX Canada. The schedule will see between three and five games starting at 7 p.m. and one to two games at 10 p.m., with triple-headers possible on occasion.
Sunday nights will see the creation of Hometown Hockey, a new night of programming at 7 p.m. on City. Each week the broadcast, skewed towards young males, will be filmed at a different community rink across Canada and will include player profiles and grassroots hockey stories, featuring Canadian NHL teams in the games each week.
Wednesday nights on Sportsnet will feature a lighter schedule, with an emphasis on storytelling, says Moore, and the media co's Sportsnet 360 will also continue to broadcast games on Thursday nights.
TVA Sports unveiled its preliminary plans as the official French broadcaster of the NHL as well, saying coverage will live on both its channels, with more than 300 games airing next season.
Moore emphasized the many platforms Rogers Media will be pushing NHL content out on, suggesting ideas like playoff recipe-focused Chatelaine features, and possible future content on tech like Google Glass by the end of the 12-year deal.
Jack Tomik, chief sales officer, Rogers Media says sales options for multi-platform packages with the media co are being accepted now, emphasizing the company's One Call sales strategy.
For those with questions on whether people like Don Cherry and Ron MacLean will make the move to Rogers, Moore says contracts for the talent that will be supporting its NHL programming will be signed by the end of April, with details being released around May.

Photo (left to right): Gary Bettman, commissioner of the NHL and Scott Moore, president of the NHL and Sportsnet at Rogers Media at a press conference outlining the details of Rogers Media's hockey coverage