Magazine subscriptions and single-copy sales down: AAM report
While those two numbers are down, digital replica edition numbers are nearly tripled for the same period last year, according to the measurement company.
Single-copy-sales, subscriptions and paid and verified circulation numbers were down, but digital replicas numbers were nearly tripled for the last six months of 2013, according to the latest Canadian magazine numbers from the Alliance for Audited Media.
The report, which measured 61 titles overall, saw single-copy sales drop 12.6% for the period. Canadian Living brought in the most single-copy sales for the period, with 104,676 in the last six months of 2013, a drop of 16.1% from the last six months of 2012.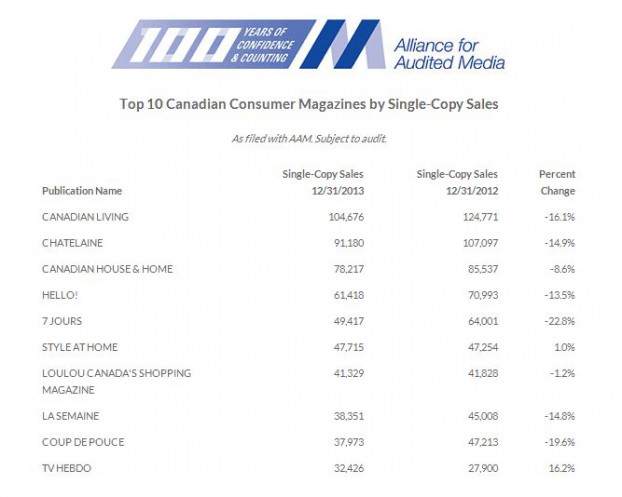 Paid and verified subscriptions were also down, dropping 5.7% for the last six months of 2013. Tops for the category was Chatelaine, with 523,942 paid and verified subscriptions, down 2.3% from the same period in 2012. Paid subscriptions were down 5.4% for the period.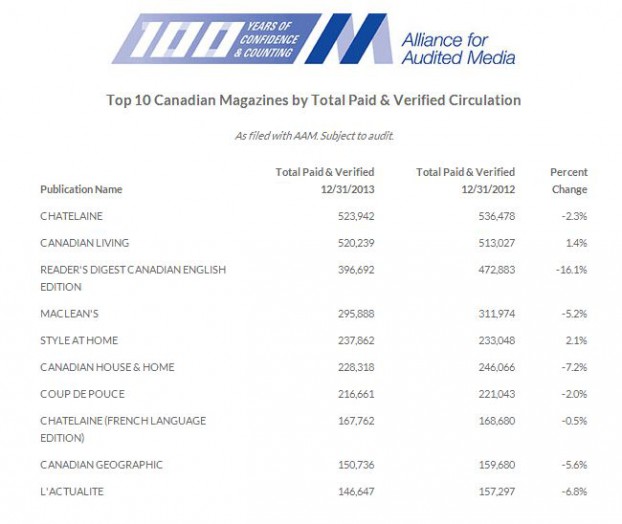 The report measured 50 digital replica editions, and found those numbers totaled approximately 125,000, or approximately 1.6% of total paid, verified and analyzed non-paid circulation. Digital edition numbers were nearly tripled from the 42,000 editions reported for the same period last year. Reader's Digest's English edition had the highest digital edition numbers, with 34,117.
Magazine photo courtesy of Shutterstock