Les Affaires redesigns top to bottom
The group of publications has updated its look to offer advertisers a more integrated, content-centric proposition.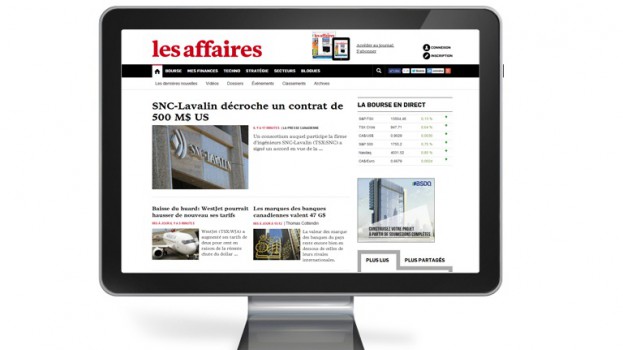 Les Affaires has announced that it has redesigned its news offering, both in print and online. The group of business publications, which includes a weekly paper, a daily website and a monthly personal finance magazine, has been adjusted to unify the brand and offer advertisers a more integrated, content-centric proposition.
The Les Affaires website has upgraded to a responsive design that will adjust to whatever type of device the reader is using. Géraldine Martin, associate publisher and editor-in-chief, Les Affaires Group, TC Media, tells MiC that through the soft launch in January the site drew 556,000 unique visitors, up 11% compared to January 2013, and close to three million page views, up 3% against the same period last year, according to Google Analytics data cited by TC Media. Users can also choose to read a full online replica edition of the weekly business paper, with 3,579 readers using that service in the last six months of 2013 according to the latest numbers from AAM.
The print edition of the weekly business paper has been redesigned with a new front page format highlighting the top story from each section, which have been colour coded. PMB numbers cited by TC Media show Les Affaires had a readership of 276,000 in fall 2013, an increase of 17% compared to fall 2012. Martin says the newspaper has increased its reach within its target readership to 155,000 professionals and corporate executives, the highest since 2006. Martin says readership is 52% in Montreal, with the rest coming from elsewhere in Quebec.
Les Affaires' personal finance magazine, previously named A+, has changed its name to Les Affaires Plus to leverage the credibility of the parent brand. As of fall 2013, the magazine had 135,000 readers, a 31% increase since fall 2012, per PMB numbers provided by TC Media.
Martin says the changes allow the news organization to offer a more integrated advertising proposition driven by content instead of platforms. "For example, an advertiser who is interested in the energy sector may sponsor an event on energy, buy advertising in a special section related to the energy sector in the newspaper and on our website and sponsor a webinar on how to do business in the energy sector," she says, adding that more and more revenue comes from "special projects" that affect mobile, print and events as one package.
The paper is promoting the re-launch within and outside the TC Media network across Quebec, with a creative campaign by Bleublancrouge including television, print, digital ads, social media and billboards in Montreal and Quebec City. Teams of representatives will distribute the papers on the street on Feb. 7 in downtown Montreal and Feb. 10 in Quebec City.