Facebook releases its first social TV data
A new white paper from Facebook and analytics partner SecondSync shows 80% of TV chatter on the social network comes from mobile devices.
Facebook has partnered with SecondSync, a UK-based social TV analytics firm, to release a study on how users talk about TV on Facebook. Measuring anonymized data from the US, UK and Australia, it's the first in-depth analysis of Facebook social TV data spanning multiple countries.
The study, which did not include data from Canadian users, shows that in some cases, as much as 24% of a show's TV audience is posting or interacting with related content on Facebook. Of that, 80% of TV chatter on Facebook comes from a mobile device, though the news and current affairs audience is more likely to access the website via desktop. Of those talking about TV on Facebook, 13-to 24-year-olds make up 30%, 25-to 34-year-olds also comprise 30% and 35-to 44-year-olds make up 20%.
According to the report, 60% of daily Facebook interactions about any given TV show occur while the show is on the air. The study shows how the frequency of interactions during a show can be predicted by genre. For example, a drama is more likely to be bookended by chatter, with the most interactions peaking at the beginning and end of an episode, whereas reality competition shows like Dancing With The Stars generate the most chatter during performances. "We see huge peaks of activity that map directly to key events in the telecasts," the study reads. The data shows interaction peaks correspond to pivotal moments, like the final scene of Breaking Bad, the final score of an NFL playoff game, or The Killers' performance on an episode of The X Factor UK.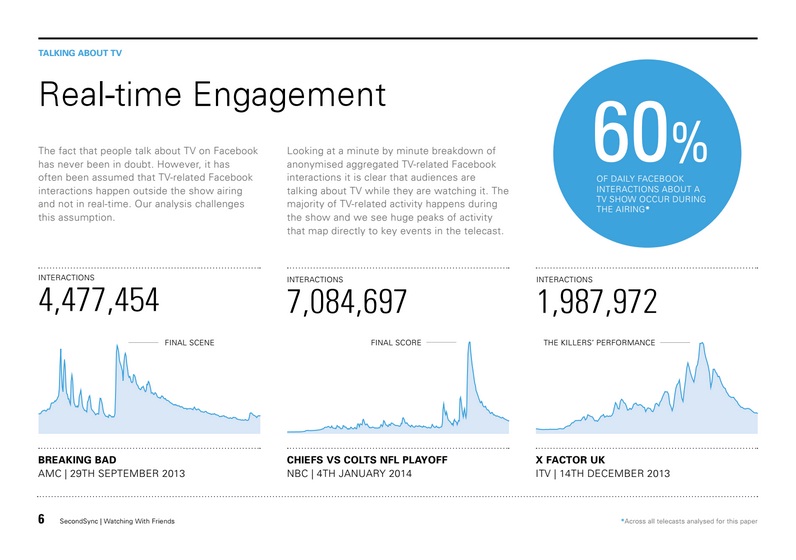 Matt Ramella, VP digital, UM Canada, tells MiC he sees the study as another step in Facebook's evolution to catch up to Twitter in relation to the link between social and TV, but it still remains to be seen how marketers can action the data, especially from a real-time targeting perspective.
Ramella says the stat on 80% of TV-related chatter coming through mobile reinforces his view that mobile is the key to reaching social TV audiences. "In terms of enabling a brand to connect with a consumer related to what they're watching on TV, it starts and ends with mobile," he says.
The study says future research from the partnership will include investigating the extent to which Facebook drives TV tune-in, measuring the reach of TV-related interactions and looking at the effectiveness of Facebook calls to action in TV advertising. In a blog post, Facebook says its aim is to deliver scaled chatter data later this year.