Temple Street continues digital expansion with Evolve
The fitness platform (pictured) is the first project from the creative content arm of Temple Street Media Ventures, a division of the Toronto-based prodco that oversees digital projects.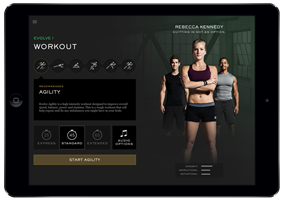 As part of an ongoing effort to expand into the realm of original digital content, Temple Street Media Ventures, a division of Toronto-based production company Temple Street Productions, has launched the fitness platform Evolve Functional Fitness.
Evolve is the first project from the creative content arm of Temple Street Media Ventures, a division of Temple Street that was created in 2013 to oversee all of the production company's digital media endeavours.
The fitness program features workout programs, nutritional information and a social network for users. The program can be accessed on any computer or mobile device, and was co-founded by Temple Street co-presidents David Fortier and Ivan Schneeberg.
With initiatives like Evolve and other digital projects from Temple Street Media Ventures, the production company is aiming to sustain growth in an ever-changing media landscape, says John Young, managing director with Temple Street Productions.
While Temple Street Productions has seen recent success with traditional television projects, it is difficult for a company to build a sustainable business focusing solely on the production of conventional formats, like one-hour dramas, Young says.
"I don't think in this day and age, with the changes we are seeing in the media and content landscape, we can rest our laurels on any one area," Young says. While Young would not disclose the exact budget of the Evolve program, he notes it was "not an insignificant amount of money."
The company is working to secure partnerships with global brands for Evolve, Young says, but has not finalized any deals yet. It also plans on hosting corporate clinics in Toronto for Evolve.
In addition to creative content ventures like Evolve, Temple Street Media Ventures also develops and produces digital content to complement the television shows from Temple Street Productions.
The third arm of the division is Boat Rocker Studios, a digital studio located in Toronto that will work with YouTube and other online video platforms to produce original video, social media strategies and online monetization opportunities.
Boat Rocker Studios is set to open in Q2 of 2014.
From Playback Daily