AdRise brings interactive smart TV ad unit to Canada
Both partner companies speak to MiC about the deal, which will see adRise's inventory offered on SourceKnowledge's programmatic platform.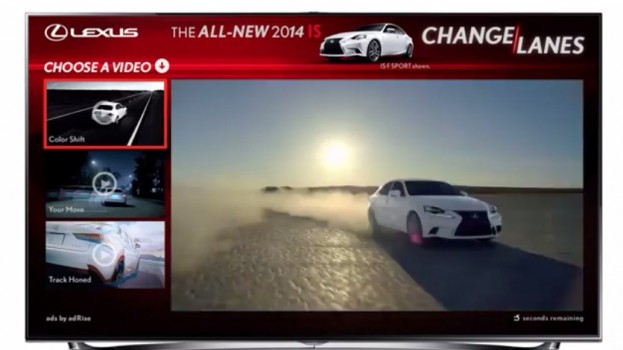 Montreal-based video ad marketplace SourceKnowledge announced yesterday it was partnering with California-based firm adRise to bring connected TV ad inventory to Canada. This is the company's first partnership with a Canadian company for advertising purposes.
AdRise creates ad-supported video streaming applications for content owners like Starz, National Geographic and ITV to run on connected TV platforms like Xbox Live, Apple TV and Roku. The firm creates and maintains the apps for free in exchange for a portion of the ad revenue generated. Through its partnerships with content owners, adRise represents the largest VOD ad inventory in the US, Farhad Massoudi, CEO, adRise, tells MiC.
The partnership will offer adRise's inventory on SourceKnowledge's programmatic platform. Ad units come in the form of pre-roll and mid-roll, not unlike Hulu ads. Massoudi calls connected TV media premium inventory because it's a "lean back" experience and ads run full screen in HD quality without the clutter of the desktop web environment. The majority of the content adRise works with are either 20-minute shows or two-hour movies, says Massoudi, so audiences are more engaged, as evidenced by a completion rate in the high 90% range.
The arrival of adRise in Canada also means the arrival of a new interactive VOD ad unit. In December, adRise partnered with Team One and Lexus to create a spot that lets the viewer choose between different videos. (Watch the video to see how users experience the ad.)
An audience profile study conducted in partnership with Nielsen shows that adRise users are primarily made up of two groups. The first is 25- to 49-year-olds who are college educated and light TV watchers. This group is the "digital generation" and more likely to comprise women, who watch more long-form content than men. The second group is retired, 50+ heavy TV viewers, more likely to be men, who complement their TV viewership with connected TV.
Massoudi says Nielsen will use the same metrics from the adRise study when the measurement firm begins monitoring all connected TV usage, something he expects will happen later this year.
He admits there is little data on Canadian adRise app use. "We don't know much today," he says. "It's an area we need to improve." But he points to global trends which show consumers, especially in North America, are moving from Blu-rays and DVDs to streaming. He cites US data that states more than 50% of Xbox usage is streaming video and six in 10 US broadband customers are connected TV users, adding Canada and the US tend to have similar behaviour.
According to a recent MTM report, about a quarter of Canadian anglophones are connecting their televisions to the internet.
Hector Pantazopoulos, chief revenue officer, SourceKnowledge, says his company is focused on bringing video advertising traffic to the Canadian marketplace and being the demand source for that. Connected TV is a growing part of that space, he adds.
Pantazopoulos says despite still being in the early stage of adoption, agencies and brands are interested in connected TV, especially brands going after "cord cutters" and the younger demographic you can't hit on TV. SourceKnowledge has gone to some major agencies in Canada and offered connected TV views as bonus impressions to demonstrate the completion rate and other attributes, he says.
Both Massoudi and Pantazopoulos say advertisers are beginning to allocate part of their digital video media budgets to connected TV, and they expect portions of traditional TV budgets will be allocated to the VOD platform eventually.